Deals with Gold et promotions (18 – 25 sept) : Les exclusivités Xbox en force
Tous les jeux, tous les prix sur Xbox One et Xbox 360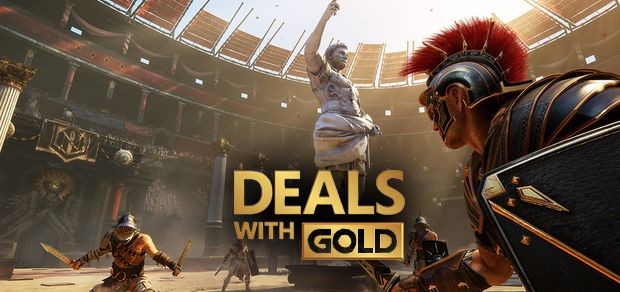 On commence la journée du bon pied avec un tour complet des promotions et bonnes affaires en tous genres sur Xbox One et Xbox 360 pour les Deals with Gold.
Valables jusqu'à midi aujourd'hui : Deals de le semaine du 11 au 18 septembre
Nous avons droit une fois encore à une série de promotions plutôt bien fournie et surtout très orientée Xbox. De Forza Motorsport 7 à Halo Wars 2 en passant par Fable, Gears f War ou encore State of Decay et Sea of Thieves, les exclusivités sont présentes en grand nombre.
Sur One comme sur Xbox 360 on retrouve un peu de tout, à tous les prix, alors il vous reste plus qu'à consulter le tableau ci-dessous pour peut-être trouver votre bonheur.
| | | | |
| --- | --- | --- | --- |
| Titre | Support | Remise | Tarif après remise |
| Adam's Venture: Origins | One | 75% | 7.50€ |
| AereA | One | 67% | 9.90€ |
| Alan Wake's American Nightmare  | 360 | 75% | 2.37€ |
| BAYONETTA | 360 | 75% | 4.99€ |
| Blue Dragon | 360 | 75% | 4.99€ |
| Comix Zone | 360 | 50% | 2.39€ |
| Crackdown | 360 | 75% | 3.74€ |
| Crackdown 2 | 360 | 75% | 4.99€ |
| Dead Rising 4 | One | 50% | 35.00€ |
| Dead Rising 4 Deluxe Edition | One | 50% | 45.00€ |
| Dead Rising 4 Season Pass | One | 60% | 8.00€ |
| Deus Ex: Mankind Divided | One | 80% | 6.00€ |
| Deus Ex: Mankind Divided – Digital Deluxe Edition | One | 80% | 9.00€ |
| Fable Anniversary | 360 | 75% | 9.99€ |
| Fable II | 360 | 75% | 4.99€ |
| Fable III | 360 | 75% | 4.99€ |
| Fable Trilogy | 360 | 75% | 17.49€ |
| Fantastic Pets | 360 | 90% | 2.99€ |
| FlatOut 4 : Total Insanity | One | 70% | 18.00€ |
| Forgotton Anne | One | 25% | 14.99€ |
| Forza Horizon 2 Complete Add-Ons Collection | One | 80% | 23.40€ |
| Forza Horizon 3 Blizzard Mountain | One | 75% | 4.99€ |
| Forza Motorsport 6 Complete Add-Ons Collection | One | 75% | 35.00€ |
| Forza Motorsport 7 VIP | One | 80% | 3.99€ |
| Gears of War | 360 | 60% | 5.99€ |
| Gears of War 2 | 360 | 60% | 7.99€ |
| Gears of War 3 | 360 | 60% | 7.99€ |
| Gears of War 4 | One | 60% | 15.99€ |
| Gears of War: Judgment | 360 | 60% | 7.99€ |
| Gears of War: Ultimate Edition – Day One Version | One | 60% | 8.00€ |
| Halo 5: Guardians | One | 25% | 14.99€ |
| Halo 5: Guardians – Digital Deluxe Edition | One | 50% | 25.00€ |
| Halo Wars 2: Complete Edition | One | 50% | 35.00€ |
| Halo Wars 2: Standard Edition | One | 50% | 20.00€ |
| Halo: The Master Chief Collection Digital | One | 25% | 22.49€ |
| Hunting Simulator | One | 70% | 18.00€ |
| Infinity Runner | One | 70% | 2.10€ |
| Jurassic World Evolution | One | 15% | 50.99€ |
| Jurassic World Evolution – Deluxe Bundle | One | 15% | 55.24€ |
| Jurassic World Evolution – Deluxe Content | One | 15% | 9.34€ |
| Just Cause 3 XL Edition | One | 80% | 9.00€ |
| Just Cause 3: Air, Land & Sea Expansion Pass | One | 75% | 3.75€ |
| Killer Instinct: Definitive Edition | One | 75% | 10.00€ |
| Legend of Kay Anniversary | 360 | 85% | 4.49€ |
| Life is Strange: Before the Storm Complete Season | One | 60% | 6.80€ |
| Lightfield HYPER Edition | One | 33% | 10.04€ |
| Lost Odyssey | 360 | 75% | 6.24€ |
| Mars: War Logs | 360 | 75% | 2.37€ |
| Mass Effect | 360 | 75% | 4.99€ |
| Masters of Anima | One | 60% | 8.00€ |
| Monster Slayers | One | 40% | 8.99€ |
| MotoGP18 | One | 40% | 41.99€ |
| Omega Strike | One | 50% | 6.00€ |
| Ori and the Blind Forest: Definitive Edition | One | 50% | 10.00€ |
| Pang Adventures | One | 60% | 4.00€ |
| Real Farm | One | 70% | 12.00€ |
| Red Faction: Guerrilla | 360 | 85% | 2.99€ |
| Red Faction: Guerrilla – Demons of the Badlands | 360 | 85% | 0.74€ |
| Red Faction: Guerrilla Smasher Pack | 360 | 85% | 0.74€ |
| Ryse: Legendary Edition | One | 75% | 15.00€ |
| ScreamRide | 360 | 75% | 7.49€ |
| Sea of Thieves | One | 35% | 45.49€ |
| Sébastien Loeb Rally EVO | One | 60% | 8.00€ |
| Shape of the World | One | 20% | 11.99€ |
| SONIC 4 Episode II | 360 | 50% | 7.19€ |
| SONIC THE HEDGEHOG 4 : Episode I | 360 | 50% | 4.74€ |
| Spintires: MudRunner | One | 67% | 11.55€ |
| State of Decay | 360 | 75% | 4.74€ |
| State of Decay 2 | 360 | 35% | 19.49€ |
| State Of Decay 2: Ultimate Edition | 360 | 35% | 32.49€ |
| State of Decay: Breakdown | 360 | 75% | 1.74€ |
| State of Decay: Lifeline | 360 | 75% | 1.74€ |
| State of Decay: Year-One Survival Edition | One | 75% | 7.50€ |
| Sunset Overdrive | One | 67% | 6.60€ |
| Sunset Overdrive Deluxe Edition | One | 67% | 9.90€ |
| Sunset Overdrive Season Pass | One | 75% | 5.00€ |
| Syberia 3 | One | 50% | 25.00€ |
| The Book of Unwritten Tales 2 | 360 | 80% | 5.99€ |
| The Elder Scrolls Online: Summerset Collector's Edition Upgrade | One | 33% | 26.79€ |
| The Elder Scrolls Online: Summerset Upgrade | One | 33% | 20.09€ |
| The Jackbox Party Pack 3 | One | 40% | 14.99€ |
| The Outfit | 360 | 80% | 2.99€ |
| The Technomancer | One | 75% | 10.00€ |
| This Is the Police | One | 67% | 6.60€ |
| Titanfall 2: Angel City's Most Wanted Bundle | One | 75% | 6.25€ |
| Titanfall 2: Colony Reborn Bundle | One | 75% | 6.25€ |
| Titanfall 2: Monarch's Reign Bundle | One | 75% | 6.25€ |
| Titanfall 2: Ultimate Edition | One | 85% | 6.00€ |
| Tom Clancy's Ghost Recon Wildlands Ultimate Edition | One | 30% | 69.99€ |
| Tom Clancy's Ghost Recon Wildlands Year 2 Gold Edition | One | 30% | 48.99€ |
| VANQUISH | 360 | 75% | 4.99€ |
| Wuppo | One | 60% | 8.00€ |