Deals with Gold & soldes (25sept – 2 oct) : Des escrocs, des héros et des Legos à gogo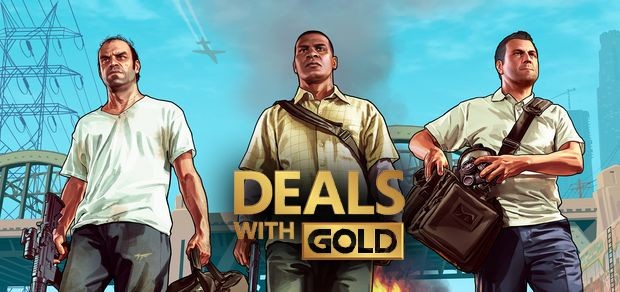 En avant pour un tour d'horizon des Deals with Gold, soldes et bonnes affaires en tous genres sur Xbox One et Xbox 360 pour la période allant du 25 septembre au 2 octobre.
La sélection se veut cette semaine très solide, éclectique. Il n'y a certes pas grand chose à se mettre sous la dent sur Xbox 360 mais du côté de sa petite sœur, il y a de tout : GTA V (évidemment), tous les Legos ou presque, The Surge, Mortal Kombat X et ses DLC, de l'indépendant… Bref, il y en a pour tous les goûts.
Voici la liste complète !
| | | | |
| --- | --- | --- | --- |
| Titre | Support | Remise | Tarif après remise |
| Adventure Time: Pirates of the Enchiridion | One | 25% | €29.99 |
| Alekhine's Gun | One | 70% | €9.00 |
| ATOMINE | One | 33% | €6.69 |
| Avatar: TLA: TBE | 360 | 80% | €3.99 |
| Bastion | One | 50% | €7.50 |
| Batman: Arkham Knight | One | 50% | €17.50 |
| Batman: Arkham Knight Premium Edition | One | 50% | €25.00 |
| Batman: Arkham Knight Season Pass | One | 50% | €20.00 |
| Batman: Return to Arkham | One | 50% | €25.00 |
| Battlefield 1 Premium Pass | One | 100% | Gratuit |
| Beast Quest | One | 70% | €12.00 |
| Ben 10 | One | 50% | €15.00 |
| Cars 3: Driven to Win | One | 50% | €30.00 |
| Color Symphony 2 | One | 75% | €2.50 |
| Complete Edition Bundle (Lord of The Fallen) | One | 75% | €3.62 |
| GTA V : Criminal Enterprise Starter Pack and Great White Shark Card Bundle | One | 35% | €29.24 |
| GTA V : Criminal Enterprise Starter Pack and Megalodon Shark Card Bundle | One | 35% | €68.24 |
| GTA V : Criminal Enterprise Starter Pack and Whale Shark Card Bundle | One | 35% | €44.19 |
| Defunct | One | 70% | €4.49 |
| Destiny 2 – Expansion Pass | One | 50% | €10.00 |
| Divinity: Original Sin – Enhanced Edition | One | 75% | €10.00 |
| Dying Light | One | 50% | €15.00 |
| Dying Light: The Following – Enhanced Edition | One | 60% | €20.00 |
| Ethan: Meteor Hunter | One | 50% | €5.00 |
| L'Ombre de la Guerre : Expansion Pass | One | 50% | €19.99 |
| Farming Simulator 15 | 360 | 75% | €4.99 |
| Farming Simulator 15 – Official Expansion (Silver) | 360 | 33% | €6.69 |
| Fearful Symmetry & the Cursed Prince | One | 60% | €3.99 |
| FIFA 19 Ultimate Edition | One | 10% | €89.99 |
| Grand Theft Auto V | One | 35% | €19.49 |
| GTA V : Grand Theft Auto V & Great White Shark Cash Card | One | 35% | €29.24 |
| Grand Theft Auto V: Premium Online Edition | One | 45% | €32.99 |
| Grand Theft Auto V: Premium Online Edition & Great White Shark Card Bundle | One | 50% | €35.00 |
| Grand Theft Auto V: Premium Online Edition & Megalodon Shark Card Bundle | One | 50% | €65.00 |
| Grand Theft Auto V: Premium Online Edition & Whale Shark Card Bundle | One | 50% | €46.50 |
| GTA Online: Criminal Enterprise Starter Pack | One | 35% | €19.49 |
| Hyper Sentinel | One | 33% | €10.04 |
| I, Zombie | One | 33% | €2.67 |
| INDIE BUNDLE: Shiness and Seasons after Fall | One | 67% | €13.20 |
| Injustice 2 – Legendary Edition | One | 40% | €35.99 |
| Injustice 2 – Standard Edition | One | 40% | €29.99 |
| Mortal Kombat X : Kombat Pack | One | 50% | €5.00 |
| Mortal Kombat X : Kombat Pack 2 | One | 50% | €10.00 |
| LEGO Batman 3 Season Pass | One | 40% | €8.99 |
| LEGO Batman 3: Beyond Gotham | One | 40% | €29.99 |
| LEGO Batman 3: Beyond Gotham Deluxe Edition | One | 50% | €32.50 |
| LEGO CITY Undercover | One | 50% | €30.00 |
| LEGO Jurassic World | One | 50% | €25.00 |
| LEGO Marvel Super Heroes | One | 60% | €16.00 |
| LEGO Marvel Super Heroes 2 | One | 50% | €30.00 |
| LEGO Marvel Super Heroes 2 Deluxe Edition | One | 50% | €37.50 |
| LEGO Marvel Super Heroes 2 Season Pass | One | 50% | €7.50 |
| LEGO Marvel Super Heroes Bundle | One | 50% | €35.00 |
| LEGO Marvel Super Heroes Deluxe Bundle | One | 50% | €42.50 |
| LEGO Marvel's Avengers Deluxe Edition | One | 50% | €30.00 |
| LEGO Marvel's Avengers Season Pass | One | 50% | €5.00 |
| LEGO Marvel's Avengers | One | 50% | €25.00 |
| LEGO Movies Game Bundle | One | 50% | €35.00 |
| LEGO STAR WARS: The Force Awakens | One | 50% | €25.00 |
| LEGO Star Wars: The Force Awakens Deluxe Edition | One | 50% | €30.00 |
| LEGO Star Wars: The Force Awakens Season Pass | One | 50% | €5.00 |
| LEGO Les Indestructibles | One | 10% | €53.99 |
| LEGO Worlds | One | 30% | €20.99 |
| Lords of the Fallen | One | 75% | €5.00 |
| Lords of the Fallen Digital Complete Edition | One | 75% | €7.50 |
| Mad Max | One | 60% | €28.00 |
| Mega Man Legacy Collection | One | 60% | €6.00 |
| Mega Man Legacy Collection 1 & 2 Combo Pack | One | 50% | €12.50 |
| Mega Man Legacy Collection 2 | One | 40% | €8.99 |
| Middle-earth: Shadow of Mordor – Game of the Year Edition | One | 50% | €15.00 |
| Middle-earth: Shadow of War | One | 50% | €19.99 |
| Mortal Kombat XL | One | 50% | €25.00 |
| Mount & Blade: Warband | One | 70% | €6.00 |
| Plants vs. Zombies Garden Warfare 2 | One | 60% | €8.00 |
| Plants vs. Zombies Garden Warfare 2: Deluxe Edition | One | 60% | €12.00 |
| Prison Architect: All Day And A Night DLC | One | 50% | €3.50€ |
| Prison Architect: All Day And A Night DLC | 360 | 50% | €4.99 |
| Prison Architect: Psych Ward DLC | One | 50% | €2.00 |
| Prison Architect: Xbox 360 Edition | 360 | 50% | €12.49 |
| Red Faction Guerrilla Re-Mars-tered | One | 25% | €22.49 |
| Road Rage | One | 70% | €9.00 |
| Rock of Ages 2: Bigger & Boulder | One | 50% | €7.50 |
| Scribblenauts Showdown | One | 50% | €20.00 |
| SHINY | One | 50% | €7.50 |
| Slain: Back from Hell | One | 60% | €6.00 |
| Sniper Ghost Warrior 3 Season Pass Edition | One | 60% | €16.00 |
| The Coma: Recut | One | 50% | €7.50 |
| The Elder Scrolls Online | One | 50% | €10.00 |
| The Elder Scrolls Online: Collection | One | 50% | €40.00 |
| The Elder Scrolls Online: Summerset | One | 40% | €23.99 |
| The Elder Scrolls Online: Summerset Collector's Edition | One | 40% | €35.99 |
| The Golf Club 2 | One | 70% | €12.00 |
| The Golf Club 2019 featuring PGA TOUR | One | 25% | €37.49 |
| The LEGO Movie Videogame | One | 50% | €17.50 |
| The LEGO NINJAGO Movie Video Game | One | 50% | €30.00 |
| The Raven – Legacy of a Master Thief Episode 2 | 360 | 80% | €1.99 |
| The Raven – Legacy of a Master Thief Episode 3 | 360 | 80% | €1.99 |
| The Raven Episode 1 | 360 | 80% | €1.99 |
| The Surge | One | 75% | €10.00 |
| The Surge: A Walk in the Park | One | 33% | €10.04 |
| Transcripted | One | 40% | €4.79 |
| Ultimate Chicken Horse | One | 25% | €11.24 |
| Injustice 2 : Ultimate Pack | One | 40% | €23.99 |
| Valkyria Revolution | One | 33% | €26.79 |
| Vampyr | One | 33% | €40.19 |
| Warhammer Bundle: Mordheim and Blood Bowl 2 | One | 67% | €16.50 |
| Mortal Kombat X : XL Pack | One | 50% | €12.50 |