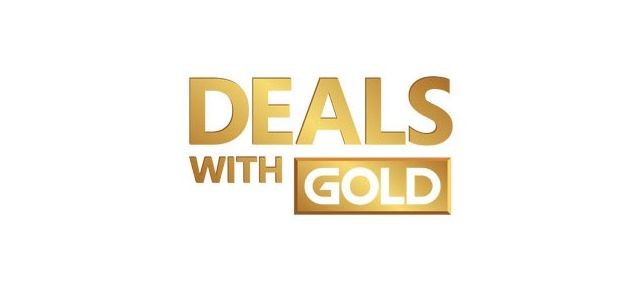 S'il vous reste encore quelques pièces à mettre sur un petit plaisir avant que Noël n'ait finit d'engloutir ce qu'il reste en banque, peut-être serez-vous intéressé par les Deals with Gold et divers soldes proposés en cette première semaine de décembre sur Xbox One et Xbox 360.
La sélection est plus fournie que la semaine dernière et touche un peu à tout, mais surtout du côté jeux indépendants. Ils composent deux bons tiers de la liste et côtoient un peu de Forza Horizon 3, Forza Motorsport 6&7, les Need for Speed, The Council ou encore Blood Bowl 2. A noter la présence de quelques jeux Kinect comme le très bon FRU.
Côté Xbox 360 on est loin de l'orgie de fin d'année puisqu'il faut se contenter d'une poignée de titres parmi lesquels Duke Nukem Forever, The Darkness, Ride ou encore Farming Simulator 15 et ses DLC.
Voici la liste complète des offres de la semaine :
| | | | |
| --- | --- | --- | --- |
| Titre | Support | Remise | Tarif après remise |
| 2Dark | One | 80% | €6.00 |
| Aces of the Luftwaffe – Squadron | One | 20% | €11.99 |
| ADIOS Amigos | One | 50% | €7.49 |
| Awkward | One | 50% | €5.99 |
| Black & White Bushido | One | 50% | €6.49 |
| Blood Bowl 2 | One | 75% | €5.00 |
| Blood Bowl 2 – Legendary Edition | One | 75% | €11.25 |
| Boiling Bolt | One | 50% | €6.00 |
| Boom Ball for Kinect | One | 40% | €5.99 |
| Bounce Rescue! | One | 85% | €1.49 |
| Brawlout Deluxe Edition | One | 50% | €15.00 |
| Brawlout Standard Edition | One | 50% | €10.00 |
| Caveman Warriors | One | 75% | €3.74 |
| Clouds & Sheep 2 | One | 50% | €4.99 |
| ClusterTruck | One | 50% | €7.49 |
| Cyber Complex | One | 50% | €4.99 |
| Deployment | One | 25% | €7.49 |
| Disco Dodgeball – REMIX | One | 50% | €7.50 |
| Doughlings: Arcade | One | 25% | €5.24 |
| DragoDino | One | 25% | €7.49 |
| Duke Nukem Forever | 360 | 80% | €3.99 |
| Farming Simulator 15 | 360 | 75% | €4.99 |
| Farming Simulator 15 – ITRunner – DLC | 360 | 33% | €5.35 |
| Farming Simulator 15 – JCB | 360 | 33% | €6.69 |
| Farming Simulator 15 – New Holland | 360 | 33% | €4.68 |
| Farming Simulator 15 – Niva | 360 | 34% | €1.33 |
| Farming Simulator 15 – Official Expansion (Silver) | 360 | 33% | €6.69 |
| FlatOut 4 : Total Insanity | One | 75% | €15.00 |
| Forza Horizon 3 and Forza Motorsport 6 Bundle | One | 60% | €35.99 |
| Forza Horizon 3 Expansion Pass | One | 60% | €13.99 |
| Forza Motorsport 6 Car Pass | One | 80% | €6.00 |
| Forza Motorsport 7 VIP | One | 75% | €4.99 |
| FRU | One | 75% | €3.74 |
| Gnomes Garden | One | 50% | €2.50 |
| Hyperdrive Massacre | One | 80% | €1.99 |
| INVERSUS Deluxe | One | 67% | €4.94 |
| Jump Stars | One | 80% | €2.00 |
| Keep Talking and Nobody Explodes | One | 25% | €11.24 |
| Kinect Bundle: Kung-Fu & Air Guitar Warrior | One | 45% | €19.24 |
| Kung-Fu for Kinect | One | 40% | €11.39 |
| Lily's Epic Quest for Lost Gems | One | 60% | €2.79 |
| Mantis Burn Racing | One | 70% | €4.49 |
| Marooners | One | 50% | €4.99 |
| Momonga Pinball Adventures | One | 30% | €4.19 |
| Need for Speed | One | 75% | €7.50 |
| Need for Speed Rivals | One | 75% | €5.00 |
| Need for Speed Ultimate Bundle | One | 80% | €20.00 |
| NUMANTIA | One | 60% | €12.00 |
| oOo: Ascension | One | 30% | €6.29 |
| Overcooked | One | 75% | €4.00 |
| Overcooked: Gourmet Edition | One | 75% | €4.75 |
| Pang Adventures | One | 50% | €4.99 |
| Peggle 2 | One | 80% | €2.40 |
| Pool Nation FX | One | 70% | €2.70 |
| Riddled Corpses EX | One | 33% | €8.03 |
| RIDE | 360 | 80% | €5.99 |
| RiftStar Raiders | One | 40% | €11.99 |
| Rocket Wars | One | 50% | €3.99 |
| SEUM: Speedrunners from Hell | One | 50% | €7.50 |
| Sherlock Holmes: The Devil's Daughter | One | 75% | €15.00 |
| Snooker Nation Championship Game Preview | One | 70% | €1.80 |
| SpeedRunners | One | 50% | €4.99 |
| Squid Hero for Kinect | One | 40% | €5.99 |
| Stikbold! A Dodgeball Adventure | One | 50% | €5.00 |
| Super Blackjack Battle II Turbo Edition | One | 40% | €4.79 |
| Super Mega Baseball: Extra Innings | One | 75% | €5.00 |
| Super Toy Cars | One | 50% | €5.00 |
| The Bureau | 360 | 80% | €3.99 |
| The Council – Complete Season | One | 33% | €20.09 |
| The Council – Episode 1: The Mad Ones | One | 50% | €3.50 |
| The Council – Episode 2: Hide and Seek | One | 33% | €4.68 |
| The Council – Episode 3: Ripples | One | 25% | €5.24 |
| The Council – Episode 4: Burning Bridges | One | 15% | €5.94 |
| The Council – Season Pass | One | 33% | €16.74 |
| The Count Lucanor | One | 50% | €5.99 |
| The Darkness | 360 | 80% | €3.99 |
| The Jackbox Party Pack | One | 40% | €14.99 |
| The Jackbox Party Pack 2 | One | 40% | €14.99 |
| The Jackbox Party Pack 3 | One | 30% | €17.49 |
| The Jackbox Party Pack 4 | One | 30% | €17.49 |
| The Journey Down Trilogy | One | 20% | €31.99 |
| The Lost Morsel | One | 67% | €1.48 |
| The Metronomicon: Slay the Dance Floor | One | 40% | €11.99 |
| Tour de France 2018 | One | 60% | €20.00 |
| Treadnauts | One | 25% | €7.49 |
| Tricky Towers | One | 60% | €5.99 |
| Ultimate Chicken Horse | One | 40% | €8.99 |
| Use Your Words | One | 50% | €7.49 |
| Wheelspin Frenzy | One | 50% | €4.99 |