Deals with Gold : une sélection bien fournie cette semaine
Darksiders III mène les troupes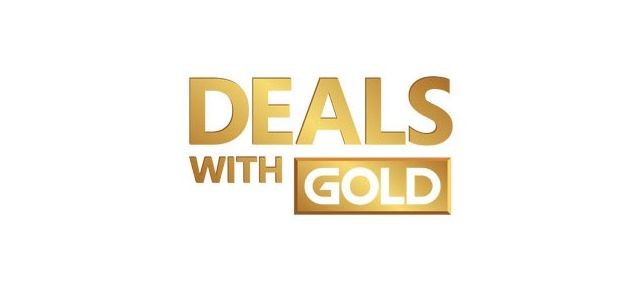 A chaque nouvelle semaine sa sélection de jeux à prix réduits avec les Deals with Gold et Spotlight Sales. Les promotions présentées sont valables à partir d'aujourd'hui et se termineront le 15 janvier à midi.
A l'inverse de la semaine dernière (les offres sont encore valables jusqu'à midi, vous pouvez les consulter ici), la liste des Deals with Gold est ici solide. En tête, on note la présence de Darksiders III (par ici pour le test), seul véritable AAA de la semaine ; mais le reste n'en demeure pas moins très intéressant avec The Surge, Les Piliers de la Terre, le très bon FMV «Late Shift» (testé dans nos colonnes), Titan Quest ou encore Ys Origin, excellent dungeon-RPG (lui aussi testé par nos soins). Les amateurs de rétro noteront la présence assez exceptionnelle de trois titres Xbox première du nom (Mx Unleashed, Full Spectrum Warrior et Panzer Elite Action).
Mais puisqu'un beau tableau vaut mieux qu'un long discours, voici donc venue la liste des Deals with Gold.
| | | | |
| --- | --- | --- | --- |
| Titre | Support | Remise | Tarif après remise |
| Aces of the Luftwaffe – Squadron | One | 20% | €11.99 |
| Agatha Knife | One | 35% | €7.79 |
| Airheart – Tales of broken Wings | One | 50% | €8.99 |
| Alekhine's Gun | One | 75% | €7.50 |
| Anodyne | One | 25% | €7.49 |
| ArcaniA | 360 | 85% | €2.99 |
| Avatar: TLA: TBE | 360 | 85% | €2.99 |
| Azkend 2: The World Beneath | One | 50% | €3.99 |
| Baja: Edge of Control HD | One | 80% | €6.00 |
| Battle Worlds: Kronos | One | 85% | €3.00 |
| Bedlam – The Game By Christopher Brookmyre | One | 60% | €3.99 |
| Black Knight Sword | 360 | 85% | €1.49 |
| Black Mirror | One | 80% | €8.00 |
| Blackwood Crossing | One | 40% | €9.59 |
| Bulb Boy | One | 75% | €2.24 |
| Cartoon Network: Battle Crashers | One | 60% | €12.00 |
| Clouds & Sheep 2 | One | 50% | €4.99 |
| Conan | 360 | 85% | €2.99 |
| Costume Quest | 360 | 85% | €2.15 |
| DAH! Path of the Furon | 360 | 85% | €2.99 |
| Darksiders | 360 | 85% | €2.99 |
| Darksiders II | 360 | 85% | €2.99 |
| Darksiders II Deathinitive Edition | One | 70% | €9.00 |
| Darksiders III | One | 10% | €53.99 |
| Darksiders III – Blades & Whip Edition | One | 25% | €74.99 |
| Darksiders III – Deluxe Edition | One | 25% | €59.99 |
| de Blob 2 | 360 | 85% | €2.99 |
| Dead Alliance | One | 75% | €10.00 |
| Deadfall Adventures | 360 | 85% | €7.49 |
| Demetrios – The BIG Cynical Adventure | One | 60% | €3.99 |
| Destroy All Humans | 360 | 85% | €2.99 |
| Dex | One | 85% | €2.99 |
| Dungeon Rushers: Crawler RPG | One | 50% | €7.50 |
| Dynamite Fishing – World Games | One | 60% | €1.99 |
| ElementsOfDestruction | 360 | 85% | €1.42 |
| Elex | One | 60% | €24.00 |
| Extinction | One | 75% | €15.00 |
| Fantastic Pets | 360 | 85% | €4.49 |
| Flipping Death | One | 50% | €9.99 |
| Forgotton Anne | One | 30% | €13.99 |
| Frontlines:Fuel of War | 360 | 85% | €2.24 |
| Full Spectrum Warrior | Xbox OG | 85% | €2.24 |
| Giana Sisters: Twisted Dreams | 360 | 85% | €2.15 |
| Giana Sisters: Twisted Dreams – Director's Cut | One | 85% | €2.25 |
| GoNNER – BLüEBERRY EDiTION | One | 35% | €6.49 |
| Goosebumps: The Game | One | 60% | €6.00 |
| Hollow Knight: Voidheart Edition | One | 40% | €8.99 |
| Hover | One | 30% | €17.49 |
| I Am Bread | One | 75% | €3.24 |
| Insane Robots | One | 50% | €10.00 |
| Inside My Radio | One | 75% | €3.74 |
| Jettomero: Hero of the Universe | One | 60% | €5.19 |
| JUJU | 360 | 85% | €2.24 |
| Jump, Step, Step | One | 40% | €4.79 |
| Ken Follett's The Pillars of the Earth | One | 50% | €20.00 |
| Knee Deep | One | 75% | €3.74 |
| Late Shift | One | 50% | €6.24 |
| Layers of Fear | One | 75% | €4.99 |
| Legend of Kay Anniversary | 360 | 85% | €4.49 |
| Lichdom: Battlemage | One | 75% | €7.50 |
| Lifeless Planet: Premier Edition | One | 50% | €9.99 |
| Lock's Quest | One | 85% | €3.00 |
| Mages of Mystralia | One | 67% | €6.59 |
| Metrico+ | One | 60% | €5.59 |
| Mirror's Edge Catalyst | One | 75% | €5.00 |
| MX Unleashed | Xbox OG | 85% | €2.24 |
| Mx Vs Atv All Out – 2017 Honda Vehicle Bundle | One | 40% | €2.99 |
| Mx Vs Atv All Out – 2017 Husqvarna Vehicle Bundle | One | 40% | €4.79 |
| Mx Vs Atv All Out – 2017 Kawasaki Vehicle Bundle | One | 40% | €2.99 |
| Mx Vs Atv All Out – 2017 KTM Vehicle Bundle | One | 40% | €5.99 |
| Mx Vs Atv All Out – 2017 Suzuki Vehicle Bundle | One | 40% | €2.99 |
| Mx Vs Atv All Out – 2017 Yamaha Vehicle Bundle | One | 40% | €4.79 |
| Mx Vs Atv All Out – Supercross Track Pack 1 | One | 50% | €5.00 |
| Mx Vs Atv All Out – Supercross Track Pack 2 | One | 50% | €5.00 |
| Mx Vs Atv All Out – Supercross Track Pack 3 | One | 50% | €5.00 |
| Mx Vs Atv All Out – Supercross Track Pack 4 | One | 50% | €5.00 |
| MX vs ATV Reflex | 360 | 85% | €4.49 |
| MX VS ATV Supercross | 360 | 85% | €4.49 |
| MX vs. ATV Alive | 360 | 85% | €5.99 |
| MX vs. ATV Supercross Encore | One | 75% | €7.50 |
| MX vs. ATV: Untamed | 360 | 85% | €2.99 |
| My Brother Rabbit | One | 20% | €11.99 |
| Neon Chrome | One | 50% | €7.49 |
| Nine Parchments | One | 75% | €4.99 |
| Oddworld: New 'n' Tasty – Deluxe Edition | One | 75% | €5.24 |
| Oh…Sir! The Hollywood Roast | One | 25% | €3.74 |
| Oh…Sir! The Insult Simulator | One | 40% | €1.79 |
| One Eyed Kutkh | One | 40% | €2.99 |
| Owlboy | One | 40% | €14.99 |
| Panzer Elite Action | Xbox OG | 85% | €1.49 |
| Pinstripe | One | 35% | €9.74 |
| Planet of the Eyes | One | 70% | €2.99 |
| Plants vs. Zombies Garden Warfare 2 – Frosty Deluxe Edition | One | 80% | €8.00 |
| Plants vs. Zombies Garden Warfare 2 – Frosty Standard Edition | One | 75% | €7.50 |
| Prison Architect: All Day And A Night DLC | 360 | 60% | €3.99 |
| Prison Architect: Xbox 360 Edition | 360 | 60% | €9.99 |
| Rad Rodgers | One | 75% | €5.00 |
| Red Faction Guerrilla Re-Mars-tered | One | 60% | €12.00 |
| Red Faction: Armageddon | 360 | 85% | €4.49 |
| Red Faction: Battlegrounds | 360 | 85% | €1.42 |
| Red Faction: Guerrilla | 360 | 85% | €2.99 |
| Refunct | One | 67% | €0.98 |
| Regalia: Of Men and Monarchs – Royal Edition | One | 25% | €18.74 |
| Rememoried | One | 50% | €7.49 |
| Rocket Riot | 360 | 85% | €1.42 |
| Shalnor Legends: Sacred Lands | One | 25% | €7.49 |
| Sine Mora EX | One | 85% | €3.00 |
| SINE MORA™ | 360 | 85% | €1.49 |
| Slime-san Superslime Edition | One | 40% | €8.99 |
| Song of the Deep | One | 75% | €3.75 |
| Soul Axiom | One | 70% | €3.74 |
| Spencer | One | 30% | €4.89 |
| Splash Blast Panic | One | 33% | €10.04 |
| Stacking | 360 | 85% | €2.15 |
| State of Mind | One | 33% | €26.79 |
| Stories of Bethem: Full Moon | One | 60% | €3.19 |
| Stuntman: Ignition | 360 | 85% | €2.99 |
| Submerged | One | 85% | €2.99 |
| Super Party Sports: Football | One | 70% | €1.49 |
| The Adventure Pals | One | 30% | €10.49 |
| The Assembly | One | 50% | €9.24 |
| The Book of Unwritten Tales 2 | 360 | 85% | €4.49 |
| The Bridge | One | 75% | €2.49 |
| The Inner World | One | 60% | €6.00 |
| The Mooseman | One | 30% | €4.89 |
| The Outfit | 360 | 85% | €2.24 |
| The Path of Motus | One | 25% | €11.24 |
| The Raven Episode 1 | 360 | 85% | €1.49 |
| The Raven Remastered | One | 67% | €9.90 |
| The Surge | One | 75% | €10.00 |
| The Surge – Augmented Edition | One | 67% | €19.80 |
| The Surge – The Good, the Bad and the Augmented Expansion | One | 15% | €8.49 |
| The Surge: A Walk in the Park | One | 33% | €10.04 |
| Thief of Thieves: Season One | One | 25% | €14.99 |
| This Is the Police | One | 67% | €6.60 |
| This is the Police 2 | One | 33% | €20.09 |
| Thunder Wolves | 360 | 85% | €1.42 |
| Time Carnage | One | 40% | €7.49 |
| Titan Quest | One | 60% | €12.00 |
| Toby: The Secret Mine | One | 60% | €4.00 |
| Transcripted | One | 40% | €4.79 |
| Wailing Heights | One | 30% | €8.39 |
| We Sing Pop | One | 85% | €4.50 |
| Wonder Boy: The Dragon's Trap | One | 50% | €9.99 |
| World to the West | One | 60% | €7.99 |
| Ys Origin | One | 50% | €9.99 |
| Zombie Driver HD | 360 | 85% | €1.42 |