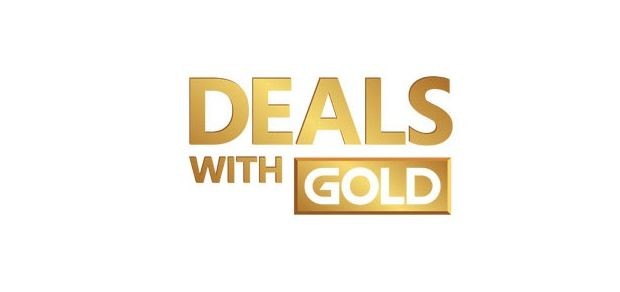 Le moment est venu de se pencher sur les Deals with Gold de la semaine, valables du 14 au 21 août midi, qui s'accompagnent pour le coup d'une grosse vague de promotions sur les DLC.
L'accent est donc mis cette semaine sur les contenus additionnels et autres Season Pass. De Resident Evil 7 à Rocket League en passant par Payday 2, Rise of the Tomb Raider, Les Sims 4 ou encore Battlefield 1, il y a de fortes chances que vous trouviez votre bonheur si vous êtes en quête de contenu supplémentaire pour vos jeux préférés.
A côté de ça, SNK fait enfin un passage par la case promotions avec une poignée de titres ACA Neo Geo à -40% (on vous invite par ailleurs à lire notre dossier sur la gamme ACA Neo Geo) ainsi que plusieurs titres Xbox 360 rétrocompatibles comme Neo Geo Battle Coliseum, Metal Slug 3 ou King of Fighters '98.
Mais le plus simple est encore de consulter la liste complète des jeux en soldes cette semaine. Une bonne partie des prix est disponible pour les jeux Xbox One ; nous tâcherons de compléter tout ça aussitôt que possible.
Deals with Gold et autres promotions sur Xbox One
| | | |
| --- | --- | --- |
| Titre | Remise | Tarif après remise |
| ACA NEOGEO ALPHA MISSION II | 40% | 4,19€ |
| ACA NEOGEO ART OF FIGHTING | 40% | 4,19€ |
| ACA NEOGEO BURNING FIGHT | 40% | 4,19€ |
| ACA NEOGEO FATAL FURY 2 | 40% | 4,19€ |
| ACA NEOGEO METAL SLUG | 40% | 4,19€ |
| ACA NEOGEO PUZZLED | 40% | 4,19€ |
| ACA NEOGEO SAMURAI SHODOWN | 40% | 4,19€ |
| ACA NEOGEO SUPER SIDEKICKS | 40% | 4,19€ |
| ACA NEOGEO THE KING OF FIGHTERS '94 | 40% | 4,19€ |
| ACA NEOGEO THE KING OF MONSTERS | 40% | 4,19€ |
| Anima: Gate of Memories | 40% | 11,99€ |
| ARK: Aberration | 40% | 5,00€ |
| ARK: Scorched Earth | 60% |   |
| Assassin's Creed IV Black Flag – Season Pass | 75% | 5,00€ |
| Assassin's Creed Origins – Deluxe Pack | 30% | 6,99€ |
| Assassin's Creed Origins – Season Pass | 40% | 23,99€ |
| Assassin's Creed Origins – The Curse Of the Pharaohs | 30% |   |
| Assassin's Creed Origins – The Hidden Ones | 30% |   |
| Assassin's Creed Syndicate – Season Pass | 67% | 9,90€ |
| Assetto Corsa – Ferrari 70th Anniversary DLC | 67% |   |
| Assetto Corsa – Japanese Pack DLC | 67% | 1,65€ |
| Assetto Corsa – Performance Pack UPGRADE DLC | 67% | 1,65€ |
| Assetto Corsa – Porsche Pack #1 DLC | 67% | 2,31€ |
| Assetto Corsa – Porsche Pack Vol.2 DLC | 67% | 2,31€ |
| Assetto Corsa – Porsche Pack Vol.3 DLC | 67% | 2,31€ |
| Assetto Corsa – Prestige Pack DLC | 67% | 2,31€ |
| Assetto Corsa – Ready To Race DLC | 67% |   |
| Assetto Corsa – Red Pack DLC | 67% | 3,30€ |
| Batman: Arkham Knight – Season Pass | 50% | 20,00€ |
| Battlefield 1 | 85% | 6,00€ |
| Battlefield 1 Apocalypse | 100% | 14,99€ |
| Battlefield 1 Heroes of the Great War Bundle | 80% | 5,00€ |
| Battlefield 1 Premium Pass | 85% | 7,50€ |
| Battlefield 1 Revolution | 85% | 9€ |
| Battlefield 1 Shortcut Kit: Ultimate Bundle | 35% |   |
| Battlefield 4 China Rising | 100% | Gratuit |
| Battlefield 4 Naval Strike | 100% | Gratuit |
| Battlefield 4 Premium | 75% |   |
| Battlefield 4 Ultimate Shortcut Bundle | 75% |   |
| Battlefield Hardline Premium | 75% |   |
| Battlefield Hardline Ultimate Shortcut Bundle | 75% |   |
| Blood Bowl 2 – Legendary Edition | 75% | 11,25€ |
| Blood Bowl 2 – Lizardmen | 33% |   |
| Blood Bowl 2 – Official Expansion + Team Pack | 33% | 26,79€ |
| Blood Bowl 2 – Undead | 33% |   |
| Blood Bowl 2 | 75% |   |
| Butcher | 50% | 5,00€ |
| Call of Cthulhu | 10% | 49,49€ |
| Call of Duty: Black Ops III – Season Pass | 40% | 29,99€ |
| Call of Duty: Black Ops III – Zombies Chronicles | 50% | 15,00€ |
| Call of Duty: Black Ops III – Zombies Chronicles Edition | 50% | 35,00€ |
| Call of Duty: Black Ops III – Zombies Deluxe | 40% | 50,00€ |
| Call of Duty: Ghosts | 67% | 23,10€ |
| Call of Duty: Ghosts Digital Hardened Edition | 67% |   |
| Call of Duty: Infinite Warfare – Digital Deluxe Edition | 50% | 36,30€ |
| Call of Duty: Infinite Warfare – Digital Legacy Edition | 50% | 36,00€ |
| Call of Duty: Infinite Warfare – Launch Edition | 67% | 21,00€ |
| Call of Duty: Modern Warfare Remastered | 40% | 20,00€ |
| Call of Duty: MWR Variety Map Pack | 50% | 7,25€ |
| Call of Duty: WWII – Digital Deluxe | 40% | 50,00€ |
| Call of Duty: WWII – Gold Edition | 40% | 35,00€ |
| Call of Duty: WWII – Season Pass | 40% | 29,99€ |
| Castles | 40% | 2,99€ |
| Cities: Skylines – Content Creator Pack | 20% |   |
| Cities: Skylines – Natural Disasters | 15% | 12,74€ |
| Cities: Skylines – Radio Stations Pack | 15% | 6,79€ |
| Cities: Skylines – Season Pass | 20% | 31,99€ |
| Cities: Skylines – Snowfall | 30% | 9,09€ |
| Dead by Daylight: A Nightmare on Elm Street Chapter | 30% | 5,59€ |
| Dead by Daylight: CURTAIN CALL Chapter | 30% | 5,59€ |
| Dead by Daylight: Head Case | 30% | 3,49€ |
| Dead by Daylight: Leatherface | 30% | 5,59€ |
| Dead by Daylight: The Halloween Chapter | 30% | 5,59€ |
| Dead by Daylight: The SAW Chapter | 30% | 5,59€ |
| Dead Rising 4 Season Pass | 33% | 13,39€ |
| Death Road to Canada | 20% | 11,99€ |
| Demon's Crystals | 50% | 2,50€ |
| Destiny 2 – Expansion 1 –  Curse of Osiris | 50% | 10,00€ |
| Destiny 2 – Expansion II: Warmind | 50% | 10,00€ |
| Diablo III: Rise of the Necromancer | 35% | 9,74€ |
| Dovetail Games Euro Fishing | 50% | 9,25e |
| Dragon Age: Inquisition DLC Bundle | 50% |   |
| EA SPORTS UFC 3 – Bruce Lee Bundle | 67% | 1,98€ |
| Euro Fishing: Bergsee | 50% |   |
| Euro Fishing: Castle Edition | 50% | 12,50€ |
| Euro Fishing: Foundry Dock | 50% | 5,50€ |
| Euro Fishing: Hunters Lake | 50% |   |
| Euro Fishing: Le Lac d'Or | 50% | 5,50€ |
| Euro Fishing: Lilies | 20% | 8,79€ |
| Euro Fishing: Manor Farm Lake | 50% | 5,50€ |
| Euro Fishing: The Moat | 50% | 5,50€ |
| Euro Fishing: Ultimate Edition | 15% | 36,97€ |
| Euro Fishing: Urban Edition | 50% |   |
| Euro Fishing: Waldsee | 50% | 5,50€ |
| Far Cry 4 Season Pass | 67% |   |
| Far Cry Primal – Wenja Pack | 50% |   |
| Far Cry5 – Season Pass | 20% | 26,99€ |
| Geometry Wars 3: Dimensions Evolved | 67% |   |
| Ghost Recon Wildlands – Fallen Ghosts | 30% |   |
| Ginger: Beyond the Crystal | 50% | 10,00€ |
| GTA Online: Criminal Enterprise Starter Pack | 35% |   |
| GTA Online: Megalodon Shark Cash Card | 15% |   |
| GTA V – Criminal Enterprise Starter Pack and Great White Shark Card Bundle | 35% |   |
| GTA V – Criminal Enterprise Starter Pack and Megalodon Shark Card Bundle | 35% |   |
| GTA V – Criminal Enterprise Starter Pack and Whale Shark Card Bundle | 35% |   |
| Injustice 2 – Ultimate Pack | 30% | 27,99€ |
| Just Cause 3 XL Edition | 80% | 9,00€ |
| Just Cause 3: Air Land & Sea Expansion Pass | 75% |   |
| Just Cause 3: Bavarium Sea Heist | 70% |   |
| Just Cause 3: Mech Land Assault | 70% |   |
| Just Cause 3: Sky Fortress | 70% | 3,60€ |
| Just Dance Unlimited – 12 months pass | 30% | 17,49€ |
| Just Dance Unlimited – 3 months pass | 30% |   |
| King's Quest : The Complete Collection | 67% | 9,90€ |
| Lara Croft and the Temple of Osiris Icy Death Pack | 70% | 1,50€ |
| Lara Croft and the Temple of Osiris Season Pass | 85% |   |
| LEGO Batman 3 Season Pass | 50% | 7,50€ |
| LEGO Marvel Super Heroes 2 Season Pass | 50% |   |
| LEGO Marvel's Avengers Season Pass | 50% |   |
| LEGO Star Wars: The Force Awakens Season Pass | 40% | 5,99€ |
| Life is Strange: Before the Storm Deluxe Edition | 60% | 10,00€ |
| Locks Quest | 80% | 4,00€ |
| Madden NFL 18 Ultimate Team Starter Pack | 50% | 4,00€ |
| Mafia III Season Pass | 50% | 15,00€ |
| Marvel vs Capcom: Infinite – Black Panther | 50% | 4,00€ |
| Marvel vs Capcom: Infinite – Black Widow | 30% |   |
| Marvel vs Capcom: Infinite – Character Pass | 60% | 12,00€ |
| Marvel vs Capcom: Infinite – Cosmic Crusaders Costume Pack | 30% |   |
| Marvel vs Capcom: Infinite – Monster Hunter | 50% | 4,00€ |
| Marvel vs Capcom: Infinite – Mystic Masters Costume Pack | 50% | 6,00€ |
| Marvel vs Capcom: Infinite – Premium Costume Pass | 60% | 12,00€ |
| Marvel vs Capcom: Infinite – Sigma | 50% | 4,00€ |
| Marvel vs Capcom: Infinite – Stone Seekers Costume Pack | 30% |   |
| Marvel vs Capcom: Infinite – Venom | 30% |   |
| Marvel vs Capcom: Infinite – Winter Soldier | 30% |   |
| Marvel vs Capcom: Infinite – World Warriors Costume Pack | 50% |   |
| Marvel vs. Capcom: Infinite – Avenging Army Costume Pack | 50% | 6,00€ |
| Middle-earth: Shadow of Mordor – Season Pass | 60% |   |
| Middle-earth: Shadow of War – Expansion Pass | 50% |   |
| Monster Hunter World Additional Gesture Bundle 2 | 40% | 2,99€ |
| Monster Hunter World Additional Gesture Bundle 4 | 40% | 4,79€ |
| Monster Hunter World Deluxe Kit | 35% | 9,74€ |
| Mordheim: City of the Damned – Complete DLC Pack | 50% | 10,00€ |
| Mordheim: City of the Damned – Complete Edition | 75% | 12,50€ |
| Mordheim: City of the Damned | 75% | 10,00€ |
| Mortal Kombat X – Kombat Pack | 50% |   |
| Mortal Kombat X – Kombat Pack 2 | 50% |   |
| Mortal Kombat X – XL Pack | 50% |   |
| MX vs. ATV Supercross Encore | 75% | 7,50€ |
| Need for Speed Payback: All DLC cars bundle | 50% | 5,00€ |
| Numantia | 60% | 12,00€ |
| One Hundred Ways | 40% | 5,99€ |
| Onrush Digital Deluxe Edition | 50% | 42,50€ |
| Onrush | 40% | 41,99€ |
| PAYDAY 2 – CRIMEWAVE EDITION – THE BIG SCORE DLC Bundle! | 30% |   |
| PAYDAY 2: CRIMEWAVE EDITION – Butcher's Mod Pack | 67% |   |
| PAYDAY 2: CRIMEWAVE EDITION – Gage Russian Weapons Pack | 60% | 2,00€ |
| PAYDAY 2: CRIMEWAVE EDITION – Gage Spec Ops Pack | 50% | 2,50€ |
| PAYDAY 2: CRIMEWAVE EDITION – GOAT Simulator Heists | 50% | 3,50€ |
| PAYDAY 2: CRIMEWAVE EDITION – John Wick Weapon Pack | 67% | 1,65€ |
| PAYDAY 2: CRIMEWAVE EDITION – Scarface Character Pack | 50% | 2,50€ |
| PAYDAY 2: CRIMEWAVE EDITION – Scarface Heists | 50% | 3,50€ |
| PAYDAY 2: CRIMEWAVE EDITION – Sydney Character Pack | 50% | 2,50e |
| PAYDAY 2: CRIMEWAVE EDITION – The Alesso Heist | 67% |   |
| PAYDAY 2: CRIMEWAVE EDITION – The Butcher's BBQ Pack | 60% |   |
| PAYDAY 2: CRIMEWAVE EDITION – The Butcher's Western Pack | 60% |   |
| PAYDAY 2: CRIMEWAVE EDITION – The Gage Chivalry Pack | 60% |   |
| PAYDAY 2: CRIMEWAVE EDITION – The Gage Ninja Pack | 60% |   |
| PAYDAY 2: CRIMEWAVE EDITION – The Golden Grin Casino Heist | 60% |   |
| PAYDAY 2: CRIMEWAVE EDITION – The Master Plan | 60% | 8,00€ |
| PAYDAY 2: CRIMEWAVE EDITION – The Most Wanted DLC Bundle | 50% | 10,00€ |
| PAYDAY 2: CRIMEWAVE EDITION – The Point Break Heist | 50% |   |
| PAYDAY 2: CRIMEWAVE EDITION – The Sokol Character Pack | 60% |   |
| PAYDAY 2: CRIMEWAVE EDITION – The Yakuza Character Pack | 60% |   |
| Plants vs. Zombies Garden Warfare 2 | 60% |   |
| Plants vs. Zombies Garden Warfare 2: 2,500,000 Humongous Coins Pack | 15% | 55,24€ |
| Plants vs. Zombies Garden Warfare 2: Deluxe Edition | 60% |   |
| Prototype Biohazard Bundle | 67% | 16,50€ |
| Resident Evil 0 Complete Costume Pack | 60% | 4,00€ |
| Resident Evil 0 – Costume Pack 1 | 50% | 1,50€ |
| Resident Evil 0 – Costume Pack 2 | 50% | 1,50€ |
| Resident Evil 0 – Costume Pack 3 | 50% | 1,50€ |
| Resident Evil 0 – Costume Pack 4 | 50% | 1,50€ |
| RESIDENT EVIL 7 biohazard – Banned Footage Vol. 1 | 40% | 5,99€ |
| RESIDENT EVIL 7 biohazard – Banned Footage Vol. 2 | 40% | 8,99€ |
| RESIDENT EVIL 7 biohazard – End of Zoe | 20% | 11,99€ |
| RESIDENT EVIL 7 biohazard – Season Pass | 40% | 29,99€ |
| Resident Evil Revelations 2 – Barry's Commandant Costume | 60% | 1,20€ |
| Resident Evil Revelations 2 – Claire's Rodeo Costume | 60% | 1,20€ |
| Resident Evil Revelations 2 – Episode Four: Metamorphosis | 60% | 2,40€ |
| Resident Evil Revelations 2 – Episode Three: Judgment | 60% | 2,40€ |
| Resident Evil Revelations 2 – Episode Two: Contemplation | 60% | 2,40€ |
| Resident Evil Revelations 2 – Extra Episode: Little Miss | 60% | 2,00€ |
| Resident Evil Revelations 2 – Extra Episode: The Struggle | 60% | 2,00€ |
| Resident Evil Revelations 2 – Moira's Urban Ninja Costume | 60% | 1,20€ |
| Resident Evil Revelations 2 – Natalia's Lottie Suit Costume | 60% | 1,20€ |
| Resident Evil Revelations 2 – Raid Mode Character: Albert Wesker | 60% | 1,00€ |
| Resident Evil Revelations 2 – Raid Mode Character: Hunk | 60% | 1,00€ |
| Resident Evil Revelations 2 – Raid Mode: Life Crystals X 25 | 60% | 1,60€ |
| Resident Evil Revelations 2 – Throwback Map Pack | 60% | 2,00€ |
| Rise of the Tomb Raider Season Pass | 70% | 9,00€ |
| Rise of the Tomb Raider – Cold Darkness Awakened | 70% |   |
| Rise of the Tomb Raider: 20 Year Celebration Pack | 70% | 15,00€ |
| Rocket League | 40% | 11,99€ |
| Rocket League – Aftershock | 40% |   |
| Rocket League – Back to the Future Car Pack | 40% | 1,19€ |
| Rocket League – Batman v Superman: Dawn of Justice Car Pack | 40% | 1,19€ |
| Rocket League – DC Super Heroes DLC Pack | 40% | 2,39€ |
| Rocket League – Esper | 40% |   |
| Rocket League – Fast & Furious DLC Bundle | 40% |   |
| Rocket League – Fast & Furious '70 Dodge Charger R/T | 40% |   |
| Rocket League – Fast & Furious '99 Nissan Skyline GT-R R34 | 40% |   |
| Rocket League – Hot Wheels Bone Shaker | 40% |   |
| Rocket League – Hot Wheels Twin Mill III | 40% |   |
| Rocket League – Marauder | 40% |   |
| Rocket League – Masamune | 40% |   |
| Rocket League – Proteus | 40% | 1,19€ |
| Rocket League – The Fate of the Furious Ice Charger | 40% | 1,19€ |
| Rocket League – Triton | 40% | 1,19€ |
| Rocket League – Vulcan | 40% | 1,19€ |
| Shift Quantum | 35% | 12,99€ |
| Shiftlings | 67% | 4,95€ |
| Sine Mora EX | 67% | 6,60€ |
| Sniper Elite 3 – Hunt The Grey Wolf | 60% |   |
| Sniper Elite 3: Save Churchill, Part 1 – In Shadows | 60% | 3,20€ |
| Sniper Elite 3: Save Churchill, Part 2 – Belly of the Beast | 70% | 2,40€ |
| Sniper Elite 3: Save Churchill, Part 3 – Confrontation | 70% | 2,40€ |
| South Park: The Fractured but Whole – SEASON PASS | 40% | 17,99€ |
| STAR WARS Battlefront II | 85% | 10,50€ |
| Steep  Road to the Olympics | 50% | 15,00€ |
| STEEP Season Pass | 50% | 10,00€ |
| Super Ultra Dead Rising 4 Mini Golf | 25% |   |
| Surviving Mars – Deluxe Upgrade Pack | 15% | 8,49€ |
| Surviving Mars – Season Pass | 15% | 29,74€ |
| Surviving Mars – Stellaris Dome Set | 15% | 3,39€ |
| The Dwarves | 80% | 8,00€ |
| The Elder Scrolls Online: Summerset | 25% | 29,99€ |
| The FMV Bundle | 30% | 32,19€ |
| The Jackbox Party Pack | 40% | 14,99€ |
| The Raven Remastered | 50% | 15,00€ |
| The Sims 4 City Living | 50% | 20,00€ |
| The Sims 4 Cool Kitchen Stuff | 40% |   |
| The Sims 4 Dine Out | 40% |   |
| The Sims 4 Get to Work | 50% | 20,00€ |
| The Sims 4 Luxury Party Stuff | 40% |   |
| The Sims 4 Perfect Patio Stuff | 40% | 5,99€ |
| The Sims 4 Romantic Garden Stuff | 40% |   |
| The Sims 4 Vampires | 40% |   |
| The Sims 4 Vintage Glamour Stuff | 40% | 5,99€ |
| Thumper | 67% | 6,60€ |
| Tom Clancy's Ghost Recon Wildlands – Season Pass | 50% | 23,99€ |
| Tom Clancy's Ghost Recon Wildlands: Narco Road | 30% |   |
| Tom Clancy's The Division Season Pass | 60% | 16,00€ |
| Tony Hawk's Pro Skater 5 | 67% | 13,20€ |
| Trials Fusion Season Pass | 50% | 10,00€ |
| Warframe: 1000 Platinum + Rare Mod | 30% | 34,99€ |
| Warframe: 170 Platinum | 20% |   |
| Warframe: 2100 Platinum + Dual Rare Mods | 35% | 64,99€ |
| Warframe: 3210 Platinum + Triple Rare Mods | 40% | 77,99€ |
| Warframe: 370 Platinum | 25% |   |
| WATCH_DOGS Season Pass | 75% | 5,00€ |
| Watch_Dogs2 – Season Pass | 60% | 16,00€ |
| Wizard of Legend | 20% | 12,79€ |
| WWE 2K18 Digital Deluxe Edition | 70% | 27,00€ |
| WWE 2K18 Season Pass | 33% |   |
| WWE 2K18 | 67% | 23,10€ |
| XCOM 2: War of the Chosen | 25% | 29,99€ |
| Zenith | 50% | 10,00€ |
Deals with Gold et autres promotions sur Xbox 360
| | |
| --- | --- |
| Titre | Remise |
| 3D Ultra Minigolf Adventures | 40% |
| Assassin's Creed III The Betrayal | 60% |
| Assassin's Creed III The Infamy | 60% |
| Assassin's Creed III The Redemption | 60% |
| Assassin's Creed IV Season Pass | 75% |
| Assault Heroes 2 | 40% |
| Batman: Arkham Origins – Season Pass | 60% |
| BioShock 2 Minerva's Den | 50% |
| BioShock Infinite Season Pass | 50% |
| Borderlands 2 Season Pass | 70% |
| Borderlands: The Pre-Sequel Season Pass | 70% |
| Call of Duty 4: Modern Warfare | 25% |
| Call of Duty: Black Ops | 50% |
| Call of Duty: Black Ops II | 67% |
| Call of Duty: Black Ops III – Bundle | 67% |
| Call of Duty: Modern Warfare 3 | 50% |
| Call of Duty: World at War | 50% |
| Carcassone | 50% |
| Commanders: Attack of the Genos | 40% |
| Destiny: The Taken King – Digital Collector's Edition | 67% |
| Destiny: The Taken King – Legendary Edition | 67% |
| Dragon Age: Origins – Leliana's Song | 50% |
| Dragon Age: Origins – Witch Hunt | 50% |
| FAR CRY 4 Escape from Durgesh Prison | 60% |
| FAR CRY 4 Hurk Deluxe Pack | 60% |
| Far Cry 4 Season Pass | 67% |
| FAR CRY 4 – Valley of the Yetis | 60% |
| Garou -Mark of the Wolves- | 75% |
| Geometry Wars 3: Dimensions Evolved | 67% |
| Geometry Wars: Retro Evolved 2 | 50% |
| Gin Rummy | 40% |
| Golf: Tee It Up! | 40% |
| Injustice: Gods Among Us – Season Pass | 60% |
| Lara Croft Tomb Raider Anniversary | 90% |
| Life is Strange Season Pass (Episodes 2-5) | 80% |
| Mass Effect 2: Arrival | 50% |
| Mass Effect 2: Kasumi – Stolen Memory | 50% |
| Mass Effect 2: Lair of the Shadow Broker | 50% |
| Mass Effect 2: Overlord | 50% |
| Mass Effect 3: Citadel (1 of 2) | 67% |
| Mass Effect 3: From Ashes | 50% |
| Mass Effect 3: Leviathan | 50% |
| Mass Effect 3: Omega | 67% |
| Metal Slug 3 | 75% |
| Metal Slug XX | 75% |
| Mortal Kombat Season Pass | 60% |
| NEOGEO Battle Coliseum | 75% |
| Resident Evil 0 Complete Costumes Pack | 60% |
| Resident Evil 5 – Desperate Escape | 50% |
| Resident Evil 5 – Lost in Nightmares | 50% |
| Resident Evil Revelations 2 Season Pass | 75% |
| Resident Evil Revelations 2 – Costume Pack | 60% |
| Resident Evil Revelations 2 – Episode Four: Metamorphosis | 60% |
| Resident Evil Revelations 2 – Episode Three: Judgment | 60% |
| Resident Evil Revelations 2 – Episode Two: Contemplation | 60% |
| Resident Evil Revelations 2 – Extra Episode: Little Miss | 60% |
| Resident Evil Revelations 2 – Extra Episode: The Struggle | 60% |
| Resident Evil Revelations 2 – Raid Mode: Throwback Map Pack | 60% |
| Rise of the Tomb Raider Season Pass | 70% |
| Rise of the Tomb Raider – Baba Yaga: The Temple of the Witch | 70% |
| Rise of the Tomb Raider: Endurance Mode | 70% |
| Samurai Shodown II | 75% |
| Skate 3 – Danny's Hawaiian Dream | 60% |
| Sleeping Dogs – Nightmare In North Point Pack | 85% |
| Sleeping Dogs – The Year of the Snake | 85% |
| Sleeping Dogs – The Zodiac Tournament Pack | 70% |
| The King of Fighters 2002 Unlimited Match | 75% |
| The King of Fighters – Sky Stage | 75% |
| The King of Fighters '98 Ultimate Match | 75% |
| TimeShift | 50% |
| Tomb Raider Underworld | 90% |
| Tomb Raider: Legend | 90% |
| Watch_Dogs Season Pass | 70% |
| Worms 2: Armageddon | 75% |
| Worms Revolution | 75% |
| Worms | 75% |