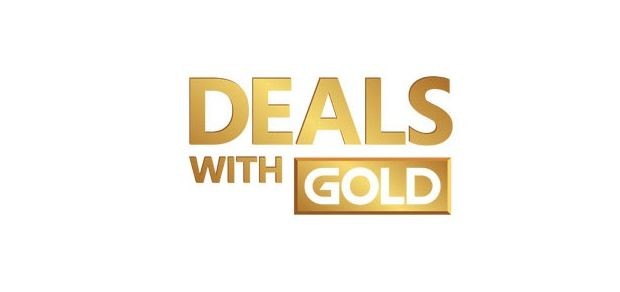 Avec la ponctualité d'un mal de ventre une veille de rentrée scolaire, nous revoilà pour un tour d'horizon des Deals with Gold, promotions et bonnes affaires en tous genres sur le Xbox Live.
Cette semaine, c'est Ubisoft qui est mis à l'honneur avec du Tom Clancy's à tout-va, Assassin's Creed, Trials, Far Cry, Watch Dogs et autres South Park, Steep ou encore The Crew. On retrouve néanmoins pas mal d'autres éditeurs et genres, avec la licence Battlefield, WRC de 5 à 7 ou du moins courant, comme Titan Quest ou Elex.
L'intégralité des offres et prix sur Xbox One/Xbox 360 est à retrouver dans le joli tableau juste en dessous.
| | | | |
| --- | --- | --- | --- |
| Titre | Support | Remise | Tarif après remise |
| #KILLALLZOMBIES | One | 50% | 6,00€ |
| Alien Rage | 360 | 80% | 2,87€ |
| ArcaniA | 360 | 90% | 1,99€ |
| ArcaniA – Fall of Setarrif | 360 | 90% | 0,94€ |
| Assassin's Creed III The Betrayal | 360 | 60% | 3,79€ |
| Assassin's Creed III The Infamy | 360 | 60% | 3,79€ |
| Assassin's Creed III The Redemption | 360 | 60% | 3,03€ |
| Assassin's Creed IV | 360 | 60% | 7,99€ |
| Assassin's Creed Liberation HD | One | 60% | 7,99€ |
| Assassin's Creed | One | 60% | 3,99€ |
| Assassin's Creed IV Season Pass | One | 70% | 5,99€ |
| Assassin's Creed Chronicles – Trilogy | One | 70% | 7,50€ |
| Assassin's Creed IV Black Flag | One | 60% | 8,00€ |
| Assassin's Creed IV Black Flag – Season Pass | One | 75% | 5,00€ |
| Assassin's Creed Origins | One | 50% | 35,00€ |
| Assassin's Creed Origins – DELUXE EDITION | One | 50% | 40,00€ |
| Assassin's Creed Origins – GOLD EDITION | One | 50% | 50,00€ |
| Assassin's Creed Origins – Season Pass | One | 20% | 31,99€ |
| Assassin's Creed Syndicate | One | 60% | 15,00€ |
| Assassin's Creed Syndicate – Season Pass | One | 67% | 9,90€ |
| Assassin's Creed Syndicate Gold Edition | One | 60% | 20,00€ |
| Assassin's Creed The Ezio Collection | One | 60% | 20,00€ |
| Assassin's Creed Triple Pack: Black Flag, Unity, Syndicate | One | 60% | 32,00€ |
| Assassin's Creed Unity | One | 60% | 12,00€ |
| Assassin's Creed III | 360 | 50% | 4,99€ |
| Assassin's Creed Rogue | 360 | 67% | 6,59€ |
| Battlefield 1 | One | 85% | 6,00€ |
| Battlefield 1 & Titanfall 2 Ultimate Bundle | One | 85% | 13,50€ |
| Battlefield 1 Revolution | One | 85% | 9,00€ |
| Battlefield 1 Shortcut Kit: Ultimate Bundle | One | 75% | 10,00€ |
| Battlefield 1943 | 360 | 70% | 2,99€ |
| Battlefield 4 Premium Edition | One | 85% | 10,50€ |
| Battlefield 4 Ultimate Shortcut Bundle | One | 80% | 10,00€ |
| Battlefield Anniversary Bundle | One | 75% | 25,00€ |
| Battlefield Hardline Ultimate Edition | One | 85% | 13,50€ |
| Battlefield: Bad Company | 360 | 75% | 4,99€ |
| Beyond Good & Evil HD | 360 | 67% | 3,13€ |
| Black Knight Sword | 360 | 80% | 1,99€ |
| Bound by Flame | 360 | 75% | 4,99€ |
| Conan | 360 | 90% | 1,99€ |
| Crash Bandicoot N. Sane Trilogy | One | 25% | 29,99€ |
| Crypt of the NecroDancer | One | 60% | 6,00€ |
| de Blob 2 | One | 70% | 9,00€ |
| de Blob 2 | 360 | 90% | 1,99€ |
| Defiance 2050: Starter Class Pack | One | 25% | 14,99€ |
| Defiance 2050: Ultimate Class Pack | One | 35% | 32,49€ |
| Diablo III: Eternal Collection | One | 50% | 35,00€ |
| Diablo III: Rise of the Necromancer | One | 35% | 9,74€ |
| Dogfight 1942 | 360 | 70% | 2,84€ |
| DreamBreak | One | 70% | 3,00€ |
| ElementsOfDestruction | 360 | 90% | 0,94€ |
| Elex | One | 70% | 18,00€ |
| Far Cry 3 | 360 | 60% | 7,99€ |
| Far Cry 4 | One | 70% | 15,00€ |
| FAR CRY 4 – Valley of the Yetis | 360 | 60% | 5,99€ |
| FAR CRY 4 + FAR CRY PRIMAL BUNDLE | One | 50% | 25,00€ |
| FAR CRY 4 Escape from Durgesh Prison | 360 | 60% | 3,99€ |
| FAR CRY 4 GOLD EDITION | One | 60% | 20,00€ |
| FAR CRY 4 Hurk Deluxe Pack | 360 | 60% | 2,99€ |
| FAR CRY 4 SEASON PASS | 360 | 67% | 9,90€ |
| Far Cry 5 | One | 40% | 45,49€ |
| Far Cry 5 Deluxe Edition | One | 40% | 51,39€ |
| Far Cry Classic | 360 | 60% | 3,99€ |
| Far Cry Primal | One | 70% | 15,00€ |
| Far Cry Primal – Apex Edition | One | 70% | 17,50€ |
| Far Cry 2 | 360 | 67% | 3,29€ |
| Far Cry 3 Blood Dragon | 360 | 70% | 4,31€ |
| Far Cry 4 | 360 | 50% | 9,99€ |
| Far Cry 4 Season Pass | 360 | 67% | 9,89€ |
| Far Cry5 Gold Edition | One | 30% | 62,99€ |
| Fire over Africa | 360 | 50% | 1,42€ |
| FOR HONOR DELUXE EDITION | One | 70% | 24,00€ |
| FOR HONOR Gold Edition | One | 70% | 33,00€ |
| FOR HONOR SEASON PASS | One | 35% | 25,99€ |
| Giana Sisters: Twisted Dreams | 360 | 80% | 2,87€ |
| I Am Alive | 360 | 70% | 4,31€ |
| Just Dance 2018 | One | 50% | 30,00€ |
| MotoGP17 | One | 60% | 20,00€ |
| MXGP2 | One | 60% | 8,00€ |
| Outland | 360 | 60% | 3,79€ |
| Outlast 2 | One | 67% | 9,90€ |
| Past Cure | One | 40% | 17,99€ |
| Portal Knights | One | 60% | 8,00€ |
| Prince of Persia | 360 | 60% | 3,79€ |
| RAW | 360 | 75% | 2,37€ |
| Rayman 3 HD | 360 | 60% | 3,79€ |
| Rayman Legends | One | 75% | 7,50€ |
| Rayman® Legends | 360 | 67% | 6,59€ |
| Rayman® Origins | 360 | 70% | 4,49€ |
| Rise of Insanity | One | 25% | 7,49€ |
| Russia under Siege | 360 | 50% | 1,42€ |
| SONIC FORCES Digital Standard Edition | One | 40% | 23,99€ |
| South Park: The Fractured but Whole | One | 70% | 18,00€ |
| South Park: The Fractured but Whole – Gold Edition | One | 60% | 32,00€ |
| South Park: The Fractured but Whole – SEASON PASS | One | 20% | 23,99€ |
| SplinterCellConviction | 360 | 50% | 9,99€ |
| STEEP | One | 30% | 20,99€ |
| Steep – Winter Games Edition | One | 60% | 20,00€ |
| Steep – Winter Games Gold Edition | One | 45% | 38,49€ |
| Steep  Road to the Olympics | One | 30% | 20,99€ |
| Steep – Season Pass | One | 50% | 10,00€ |
| Styx: Master of Shadows | One | 75% | 7,50€ |
| Styx: Master of Shadows + Styx: Shards of Darkness | One | 75% | 15,00€ |
| Styx: Shards of Darkness | One | 75% | 12,50€ |
| Sudden Strike 4 – European Battlefields Edition | One | 15% | 39,99€ |
| Tom Clancy's GRAW | 360 | 60% | 3,99€ |
| Tom Clancy's GRAW2 | 360 | 60% | 3,99€ |
| Tom Clancy's RainbowSix Vegas | 360 | 67% | 3,29€ |
| Tom Clancy's RainbowSix Vegas2 | 360 | 67% | 3,29€ |
| Tom Clancy's SC Double Agent | 360 | 60% | 3,99€ |
| The Crew | One | 50% | 12,50€ |
| THE Crew 2 – Deluxe Edition | One | 45% | 43,99€ |
| THE Crew 2 – Gold Edition | One | 40% | 69,99€ |
| The Crew 2 Standard Edition | One | 45% | 38,49€ |
| The Crew Ultimate Edition | One | 60% | 20,00€ |
| Titan Quest | One | 70% | 9,00€ |
| Tom Clancy's Ghost Recon Wildlands – Season Pass | One | 30% | 27,99€ |
| Tom Clancy's Ghost Recon Wildlands – Standard Edition | One | 60% | 20,00€ |
| TOM CLANCY'S RAINBOW SIX SIEGE + THE DIVISION BUNDLE | One | 60% | 24,00€ |
| Tom Clancy's Splinter Cell Blacklist | 360 | 60% | 7,99€ |
| Tom Clancy's Rainbow Six Siege | One | 60% | 16,00€ |
| Tom Clancy's Rainbow Six Siege Advanced Edition | One | 60% | 20,00€ |
| Tom Clancy's Rainbow Six Siege Complete Edition | One | 50% | 60,00€ |
| Tom Clancy's Rainbow Six Siege Gold Edition | One | 50% | 40,00€ |
| Tom Clancy's The Division | One | 70% | 15,00€ |
| Tom Clancy's The Division Gold Edition | One | 70% | 27,00€ |
| Tom Clancy's The Division Season Pass | One | 60% | 16,00€ |
| Trackmania Turbo | One | 67% | 9,90€ |
| Train Sim World | One | 30% | 34,99€ |
| Train Sim World Digital Deluxe Edition | One | 30% | 38,49€ |
| Trials Fusion | One | 67% | 6,60€ |
| Trials Fusion | 360 | 67% | 6,59€ |
| Trials HD | 360 | 60% | 3,79€ |
| Trials of the Blood Dragon | 360 | 60% | 5,80€ |
| TRIALS OF THE BLOOD DRAGON + TRIALS FUSION AWESOME MAX EDITION | One | 67% | 14,85€ |
| UNO | 360 | 50% | 5,00€ |
| Valiant Hearts | 360 | 60% | 5,99€ |
| Watch Dogs 2 | One | 70% | 21,00€ |
| Watch Dogs 2 – Deluxe Edition | One | 70% | 24,00€ |
| Watch Dogs 2 – Gold Edition | One | 67% | 36,30€ |
| Watch Dogs | 360 | 67% | 9,89€ |
| WATCH DOGS COMPLETE EDITION | One | 67% | 16,50 |
| Watch Dogs 2 – Season Pass | One | 60% | 16,00€ |
| WRC 7 FIA World Rally Championship | One | 67% | 19,80€ |
| WRC Collection FIA World Rally Championship | One | 75% | 30,00€ |
| Yet Another Zombie Defense HD | One | 20% | 3,99€ |