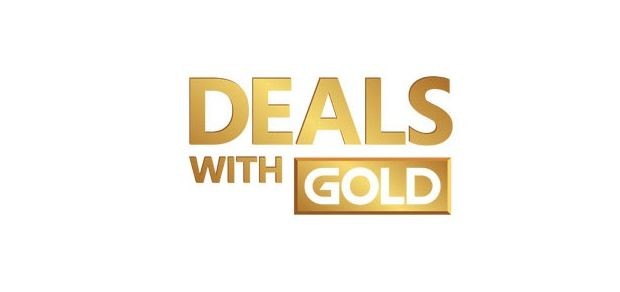 Voici la liste des jeux proposés à prix réduit pour la période du 2 au 9 octobre (midi) sur Xbox One et Xbox 360, avec les Deals with Gold & Spotlight Sales.
 On retrouve principalement une belle liste de jeux indépendants sur Xbox One, pour lesquels on note un -20% intéressant sur le récent et très apprécié Dead Cells.
Côté jeux AAA et assimilés, on retrouve Star Wars Battlefront II dont le prix a bien baissé et qui du coup peut valoir un petit essai (voir notre test). Et si la lecture ne vous fait pas peur et que vous avez un penchant pour le RPG, le très agréable Torment : Tides of Numenéra est également de la partie pour les Deals with Gold (là encore, vous pouvez tout savoir en lisant notre test).
Voici la liste complète avec les prix remisé !
| | | | |
| --- | --- | --- | --- |
| Titre | Support | Remise | Tarif après remise |
| A Hole New World | One | 30% | €6.99 |
| Altered Beast | 360 | 80% | €0.95 |
| Amazing Princess Sarah | One | 50% | €3.25 |
| AQUA KITTY UDX: Xbox One Ultra Edition | One | 60% | €3.20 |
| Asdivine Hearts | One | 35% | €9.74 |
| Axiom Verge | One | 50% | €10.00 |
| Baja: Edge of Control HD | One | 80% | €6.00 |
| Battle Worlds: Kronos | One | 85% | €3.00 |
| Battlefield 1 In the Name of the Tsar | One | 100% | Gratuit |
| Battlefield 1 They Shall Not Pass | One | 100% | Gratuit |
| Bit Dungeon Plus | One | 30% | €4.89 |
| Black & White Bushido | One | 50% | €6.50 |
| Bombslinger | One | 33% | €8.03 |
| Chime Sharp | One | 40% | €5.99 |
| DAH! Path of the Furon | 360 | 85% | €2.99 |
| Dandara | One | 40% | €8.99 |
| Dead Alliance | One | 70% | €12.00 |
| Dead Cells | One | 20% | €19.99 |
| Death Road to Canada | One | 40% | €8.99 |
| Deep Ones | One | 30% | €3.49 |
| Don't Sink | One | 50% | €4.99 |
| EA SPORTS UFC 3 Notorious Edition | One | 50% | €35.00 |
| Elliot Quest | One | 40% | €8.99 |
| Extinction | One | 60% | €24.00 |
| Extinction: Deluxe Edition | One | 70% | €21.00 |
| Faery: Legends of Avalon | 360 | 75% | €1.79 |
| FLYING TIGERS: SHADOWS OVER CHINA | One | 50% | €9.50 |
| FOX n FORESTS | One | 50% | €5.00 |
| Furi | One | 50% | €10.00 |
| Hyper Light Drifter | One | 50% | €9.99 |
| Iron Crypticle | One | 60% | €3.60 |
| Jotun: Valhalla Edition | One | 75% | €3.75 |
| Jump Gunners | One | 25% | €9.74 |
| Knights of Pen and Paper +1 Deluxier Edition | One | 25% | €11.24 |
| Maldita Castilla EX – Cursed Castile | One | 50% | €6.00 |
| Momodora: Reverie Under the Moonlight | One | 40% | €5.99 |
| Moonlighter | One | 25% | €14.99 |
| NOT A HERO: SUPER SNAZZY EDITION | One | 75% | €3.25 |
| Of Orcs and Men | 360 | 75% | €4.99 |
| Oh…Sir! The Hollywood Roast | One | 25% | €3.74 |
| Oh…Sir! The Insult Simulator | One | 40% | €1.79 |
| OlliOlli2: XL Edition | One | 75% | €3.25 |
| Overcooked: Gourmet Edition | One | 67% | €6.27 |
| Owlboy | One | 40% | €14.99 |
| Party Hard | One | 50% | €6.50 |
| Penarium | One | 75% | €2.25 |
| Phantom Trigger | One | 50% | €7.49 |
| Pixel Heroes: Byte & Magic | One | 60% | €4.00 |
| Punch Club | One | 50% | €5.00 |
| Pure Farming 2018 | One | 40% | €23.99 |
| Pure Farming 2018 Digital Deluxe Edition | One | 45% | €27.49 |
| Reagan Gorbachev | One | 75% | €2.49 |
| Rocket Riot | One | 80% | €1.89 |
| Rotastic | 360 | 75% | €1.19 |
| Serial Cleaner | One | 70% | €4.50 |
| Shalnor Legends: Sacred Lands | One | 25% | €7.49 |
| SINE MORA™ | 360 | 80% | €1.99 |
| Slime-san Superslime Edition | One | 30% | €10.49 |
| Songbringer Bundle | One | 60% | €7.99 |
| STAR WARS Battlefront II | One | 75% | €12.50 |
| STAR WARS Battlefront Ultimate Edition | One | 85% | €6.00 |
| Stardew Valley | One | 25% | €11.24 |
| STAY | One | 25% | €8.99 |
| SVC: ToeJam & Earl | 360 | 75% | €2.37 |
| The Escapists | One | 75% | €4.50 |
| The Escapists 2 | One | 45% | €10.99 |
| The Final Station | One | 50% | €7.50 |
| The Long Reach | One | 50% | €7.50 |
| The Lost Morsel | One | 67% | €1.48 |
| The Z Axis: Continuum | One | 25% | €7.49 |
| Things on Wheels | 360 | 75% | €1.19 |
| Three Fourths Home: Extended Edition | One | 70% | €3.00 |
| Thunder Wolves | 360 | 75% | €2.37 |
| Torment: Tides of Numenera | One | 70% | €15.00 |
| Uncanny Valley | One | 60% | €5.20 |
| Unit 4 | One | 80% | €3.00 |
| Virtua Fighter 5 Final Showdown | 360 | 67% | €4.74 |
| Wizard of Legend | One | 25% | €11.99 |
| Xenon Valkyrie+ | One | 50% | €5.00 |