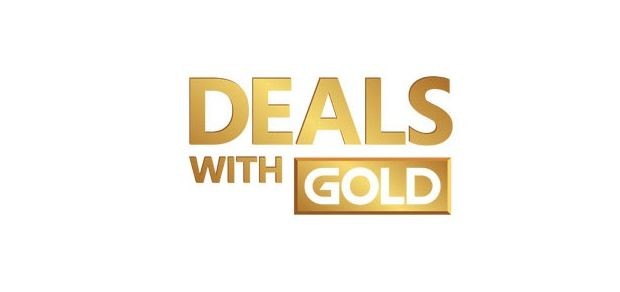 Moment préféré de la semaine pour celles et ceux qui ne manquent jamais une occasion de compléter leur bibliothèque de jeux, l'heure des Deals with Gold a sonné. Les offres présentées ici sont valables jusqu'au 5 février à midi.
A voir également : Les offres de la semaine dernière (valables jusqu'aujourd'hui 29/01 à midi)
Cette semaine, c'est Assassin's Creed qui fait office de tête d'affiche avec les épisodes Odyssey, Origins, Unity, Syndicate ou encore III et Black Flag, accompagnés de leurs DLC dans la plupart des cas. S'il vous manque quelque chose pour compléter votre collection, elle se trouve certainement dans les deals de la semaine.
La bonne surprise vient elle de la Xbox 360 et plus particulièrement de SEGA qui propose quelques titres comme Resonance of Fate, Binary Domain, Virtua Fighter 5 Showdown ou encore Jet Set Radio. Ce n'est pas toutes les semaines que cela arrive, alors mieux vaut en profiter, même s'il est bon de rappeler que les deux premiers jeux cités ne sont pas (pour l'heure) rétrocompatibles. A noter, toujours chez SEGA, la présence de la compilation Mega Drive sur Xbox One qui passe de 30 à 20€.
Sinon, en vrac, on retrouve pas mal de propositions sur les titres EA Sports (FIFA, Madden, NBA Live), Farming Simulator 19, Kerbal Space Program ou encore King of Fighters'95 avec deux autres titres ACA NeoGeo.
Voici la liste complète :
| | | | |
| --- | --- | --- | --- |
| Titre | Support | Remise | Tarif après remise |
| 20XX | One | 40% | €10.79 |
| ACA NEOGEO FOOTBALL FRENZY | One | 50% | €3.50 |
| ACA NEOGEO GHOST PILOTS | One | 50% | €3.50 |
| ACA NEOGEO THE KING OF FIGHTERS '95 | One | 50% | €3.50 |
| ADIOS Amigos | One | 50% | €7.49 |
| Assassin's Creed IV Black Flag – Freedom Cry | One | 50% | €5.00 |
| Assassin's Creed IV Black Flag Illustrious Pirates Pack | One | 50% | €3.50 |
| Assassin's Creed Rogue Remastered | One | 50% | €15.00 |
| Assassin's Creed III The Betrayal | 360 | 67% | €3.13 |
| Assassin's Creed III The Infamy | 360 | 67% | €3.13 |
| Assassin's Creed III The Redemption | 360 | 67% | €2.50 |
| Assassin's Creed IV | 360 | 60% | €7.99 |
| Assassin's Creed Liberation HD | 360 | 60% | €7.99 |
| Assassin's Creed | 360 | 60% | €3.99 |
| Assassin's Creed IV Season Pass | 360 | 70% | €5.99 |
| Assassin's Creed Brotherhood | 360 | 75% | €2.49 |
| Assassin's Creed Brotherhood – La Disparition de Da Vinci (DLC) | 360 | 50% | €4.74 |
| Assassin's Creed Chronicles – Trilogy | One | 70% | €7.50 |
| Assassin's Creed Chronicles: China | One | 50% | €5.00 |
| Assassin's Creed Chronicles: India | One | 50% | €5.00 |
| Assassin's Creed Chronicles: Russia | One | 50% | €5.00 |
| Assassin's Creed IV Black Flag | One | 60% | €8.00 |
| Assassin's Creed IV Black Flag – Season Pass | One | 50% | €10.00 |
| Assassin's Creed Odyssey | One | 50% | €35.00 |
| Assassin's Creed Odyssey – DELUXE EDITION | One | 50% | €42.50 |
| Assassin's Creed Odyssey – GOLD EDITION | One | 35% | €64.99 |
| Assassin's Creed Odyssey – ULTIMATE EDITION | One | 35% | €74.74 |
| Assassin's Creed Origins | One | 67% | €23.10 |
| Assassin's Creed Origins – DELUXE EDITION | One | 67% | €26.40 |
| Assassin's Creed Origins – Deluxe Pack | One | 50% | €5.00 |
| Assassin's Creed Origins – GOLD EDITION | One | 50% | €50.00 |
| Assassin's Creed Origins – Season Pass | One | 30% | €27.99 |
| Assassin's Creed Origins – La Malédiction des Pharaons | One | 30% | €13.99 |
| Assassin's Creed Origins – The Hidden Ones | One | 30% | €6.99 |
| Assassin's Creed Revelations | 360 | 75% | €2.49 |
| Assassin's Creed Syndicate | One | 67% | €9.90 |
| Assassin's Creed Syndicate – Jack l'Eventreur | One | 60% | €6.00 |
| Assassin's Creed Syndicate – Season Pass | One | 67% | €9.90 |
| Assassin's Creed Syndicate – Steampunk Pack | One | 50% | €2.50 |
| Assassin's Creed Syndicate – Pack Les Rues de Londres | One | 50% | €3.50 |
| Assassin's Creed Syndicate – Le Dernier Maharaja | One | 50% | €3.50 |
| Assassin's Creed Syndicate – Pack Légendes Victoriennes | One | 50% | €2.50 |
| Assassin's Creed Syndicate Gold Edition | One | 67% | €16.50 |
| Assassin's Creed The Ezio Collection | One | 80% | €10.00 |
| Assassin's Creed Triple Pack: Black Flag, Unity, Syndicate | One | 67% | €26.40 |
| Assassin's Creed Unity | One | 67% | €9.90 |
| Assassin's Creed Unity – Secrets of the Revolution | One | 60% | €2.80 |
| Assassin's Creed III | 360 | 50% | €4.99 |
| Assassin's Creed III – The Hidden Secrets Pack | 360 | 67% | €1.58 |
| Assassin's Creed III Season Pass | 360 | 67% | €9.40 |
| Assassin's Creed III: The Battle Hardened Pack | 360 | 67% | €3.13 |
| BINARY DOMAIN | 360 | 50% | €9.99 |
| Blood Bowl 2 | One | 75% | €5.00 |
| Blood Bowl 2 – Legendary Edition | One | 75% | €11.25 |
| Blue Estate | One | 75% | €3.24 |
| Command & Conquer Alerte Roue 3 | 360 | 25% | €14.99 |
| Command & Conquer 3 | 360 | 25% | €14.99 |
| Destiny 2: Renégats | One | 25% | €29.99 |
| Destiny 2: Renégats – Complete Collection | One | 40% | €59.99 |
| Destiny 2: Renégats – Digital Deluxe Edition | One | 25% | €59.99 |
| Destiny 2: Renégats – Legendary Collection | One | 50% | €35.00 |
| Destiny 2: Renégats+ Pass annuel | One | 25% | €52.49 |
| EA SPORTS 19 Bundle | One | 30% | €87.49 |
| EA SPORTS FIFA 19 Legacy Edition | 360 | 60% | €23.99 |
| Farming Simulator 19 | One | 15% | €42.49 |
| Farming Simulator 19 – Premium Edition | One | 15% | €76.49 |
| FIFA 19 | One | 60% | €28.00 |
| FIFA 19 – NHL 19 Bundle | One | 50% | €45.00 |
| FIFA 19 Champions Edition | One | 60% | €36.00 |
| FIFA 19 Ultimate Edition | One | 60% | €40.00 |
| FIFA The Journey Trilogy | One | 60% | €32.00 |
| Forza Horizon 3 Complete Add-Ons Collection | One | 75% | €34.74 |
| Forza Horizon 3 Deluxe Edition | One | 25% | €52.49 |
| Forza Horizon 3 Standard Edition | One | 35% | €25.99 |
| Forza Horizon 4 and Forza Motorsport 7 Bundle | One | 40% | €71.98 |
| Forza Horizon 4 VIP | One | 50% | €9.99 |
| Fumiko! | One | 50% | €4.99 |
| Ginger: Beyond the crystal | One | 60% | €7.99 |
| Grand Theft Auto: San Andreas | 360 | 33% | €10.04 |
| GTA IV | 360 | 67% | €8.24 |
| I AM THE HERO | One | 25% | €5.99 |
| Jet Set Radio | 360 | 50% | €4.74 |
| Kerbal Space Program Enhanced Edition | One | 50% | €20.00 |
| Kholat | One | 80% | €3.99 |
| L.A. Noire | One | 50% | €20.00 |
| Madden NFL 19 – FIFA 19 Bundle | One | 50% | €45.00 |
| Madden NFL 19: Ultimate Super Bowl Edition | One | 67% | €29.70 |
| Map Pack 1 pour Command & Conquer 3 | 360 | 17% | €4.99 |
| Mars: War Logs | One | 80% | €1.89 |
| NBA LIVE 19 | One | 75% | €10.00 |
| Pool Nation FX | One | 70% | €2.69 |
| Pool Nation Snooker Bundle | One | 60% | €4.19 |
| Red Dead Redemption | 360 | 67% | €9.89 |
| Resonance of Fate | 360 | 50% | €9.99 |
| RunestoneKeeper | One | 40% | €5.99 |
| SEGA Genesis Classics | One | 35% | €19.49 |
| TerraTech | One | 30% | €16.09 |
| Virtua Fighter 5 Final Showdown | 360 | 67% | €4.74 |