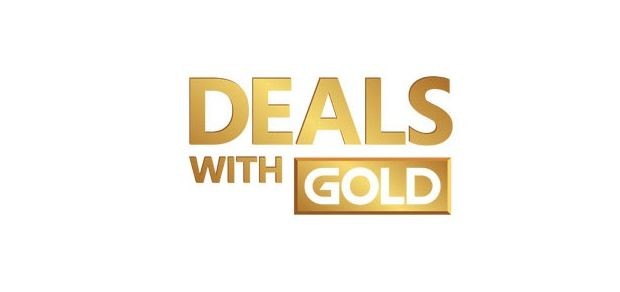 C'est une semaine riche en promotions qui s'ouvre sur Xbox One et Xbox 360 avec une belle addition de Deals with Gold et de soldes d'éditeurs. 
A lire également : Les sorties Xbox One de la semaine
Une fois encore la sélection présentée se veut solide, avec une poignée de titres majeurs tels que Red Dead Redemption 2 et Destiny 2 Renégats. A côté de cela, les amateurs des jeux LEGO devraient trouver leur bonheur (avec la plupart des titres Xbox One et Xbox 360 à prix réduit), de même que les pécheurs vidéoludiques : Euro Fishing et ses nombreux DLC sont de la partie.
Et puis il y a Sniper Ghost Warrior 3, AER, The Surge, Shiness, LA Noire dans sa version Xbox 360 ou encore l'inévitable GTA V. Bref, il y a de quoi faire.
Voici la liste complète des Deals with Gold et soldes d'éditeurs !
| | | | |
| --- | --- | --- | --- |
| Titre | Support | Remise | Tarif après remise |
| AER – Memories of Old | One | 25% | €11.24 |
| Alekhine's Gun | One | 70% | €9.00 |
| Alien Rage | 360 | 80% | €2.87 |
| Beast Quest | One | 70% | €12.00 |
| Ben 10 | One | 70% | €9.00 |
| BEYOND GOTHAM | 360 | 70% | €17.99 |
| Bully Scholarship Edition | 360 | 60% | €5.99 |
| Chaos on Deponia | One | 50% | €9.99 |
| Crayola Scoot | One | 70% | €12.00 |
| Crossout : Frostburn Pack | One | 50% | €20.00 |
| Dead Alliance | One | 70% | €12.00 |
| Dead Alliance: Multiplayer Edition | One | 70% | €7.50 |
| Destiny 2 Renégats | One | 50% | €20.00 |
|  Destiny 2 Renégats – Complete Collection | One | 45% | €54.99 |
|  Destiny 2 Renégats  - Digital Deluxe Edition | One | 35% | €51.99 |
|  Destiny 2 Renégats – Legendary Collection | One | 50% | €35.00 |
|  Destiny 2 Renégats + Pass annuel | One | 30% | €48.99 |
| Dogfight 1942 | 360 | 75% | €2.37 |
| Doodle God: Crime City | One | 35% | €4.54 |
| Doom and Destiny | One | 20% | €9.59 |
| Dovetail Games Euro Fishing | One | 70% | €5.55 |
| Euro Fishing: Bergsee | One | 60% | €4.40 |
| Euro Fishing: Castle Edition | One | 60% | €10.00 |
| Euro Fishing: Foundry Dock | One | 60% | €4.40 |
| Euro Fishing: Hunters Lake | One | 60% | €4.40 |
| Euro Fishing: Le Lac d'Or | One | 60% | €4.40 |
| Euro Fishing: Lilies | One | 60% | €4.40 |
| Euro Fishing: Manor Farm Lake | One | 60% | €4.40 |
| Euro Fishing: Season Pass | One | 50% | €18.00 |
| Euro Fishing: The Moat | One | 60% | €4.40 |
| Euro Fishing: Ultimate Edition | One | 30% | €30.44 |
| Euro Fishing: Urban Edition | One | 60% | €10.00 |
| Euro Fishing: Waldsee | One | 60% | €4.40€ |
| Extinction | One | 70% | €18.00 |
| Extinction: Deluxe Edition | One | 70% | €21.00 |
| Farming Simulator 17 – Premium Edition | One | 70% | €18.00 |
| Fire over Africa | One | 50% | €1.42 |
| GTA V | 360 | 50% | €9.99 |
| Human Fall Flat | One | 60% | €5.99€ |
| INDIE BUNDLE: Shiness et Seasons after Fall | One | 75% | €10.00 |
| Infinite Air with Mark McMorris | One | 70% | €9.00 |
| L.A. Noire | 360 | 70% | €8.99 |
| LEGO Batman | 360 | 70% | €5.99 |
| LEGO Batman 3: Au-delà de Gotham | One | 50% | €25.00 |
| LEGO Batman 3: Au-delà de Gotham Deluxe Edition | One | 50% | €32.50 |
| LEGO CITY Undercover | One | 50% | €30.00 |
| LEGO DC Super-Vilains | One | 50% | €30.00 |
| LEGO DC Super-Vilains Deluxe Edition | One | 40% | €44.99 |
| LEGO Harry Potter Collection | One | 40% | €23.99 |
| LEGO Jurassic World | One | 50% | €25.00 |
| LEGO Marvel | 360 | 70% | €8.99 |
| LEGO Marvel Super Heroes | One | 50% | €20.00 |
| LEGO Marvel Super Heroes 2 | One | 50% | €30.00 |
| LEGO Marvel Super Heroes 2 – Deluxe Edition | One | 50% | €37.50 |
| LEGO Marvel Super Heroes Bundle | One | 50% | €35.00 |
| LEGO Marvel Super Heroes – Deluxe Bundle | One | 50% | €42.50 |
| LEGO Marvel's Avengers – Deluxe Edition | One | 50% | €30.00 |
| LEGO Marvel's Avengers | One | 50% | €25.00 |
| LEGO Movies Game Bundle | One | 50% | €35.00 |
| LEGO Star Wars: Le Réveil de la Force (360) | 360 | 70% | €14.99 |
| LEGO STAR WARS: Le Réveil de la Force | One | 50% | €25.00 |
| LEGO Star Wars: Le Réveil de la Force – Deluxe Edition | One | 50% | €30.00 |
| LEGO Les Indestructibles | One | 50% | €30.00 |
| LEGO Worlds | One | 50% | €15.00 |
| LEGO Batman 2 | 360 | 70% | €5.99 |
| LEGO Harry Potter | 360 | 70% | €5.99 |
| LEGO® Harry Potter : Années 5-7 | 360 | 70% | €5.99 |
| LEGO Jurassic World | 360 | 70% | €8.99 |
| LEGO Movie Videogame | 360 | 70% | €8.99 |
| Lichdom: Battlemage | One | 70% | €9.00 |
| Lords of the Fallen | One | 85% | €3.00 |
| Lords of the Fallen Digital Complete Edition | One | 85% | €4.50 |
| Madden NFL 19 | One | 75% | €17.50 |
| Madden NFL 19: Hall of Fame Edition | One | 75% | €22.50 |
| Max Payne 3 | One | 50% | €9.99 |
| Nightmare Boy | One | 50% | €6.49 |
| Outcast – Second Contact | One | 60% | €18.00 |
| Override: Mech City Brawl – Season Pass | One | 35% | €9.74 |
| Oxenfree | One | 60% | €7.99 |
| Red Dead Redemption 2 | One | 30% | €48.99 |
| Red Dead Redemption 2: Special Edition | One | 30% | €59.49 |
| Red Dead Redemption 2: Ultimate Edition | One | 30% | €69.99 |
| Rotastic | 360 | 80% | €0.95 |
| Russia under Siege | 360 | 50% | €1.42 |
| Shalnor Legends: Sacred Lands | One | 25% | €7.49 |
| Siberian Strike | One | 70% | €2.84 |
| Sniper Ghost Warrior – Second Strike | One | 60% | €2.67 |
| Sniper Ghost Warrior 2 | One | 85% | €5.99 |
| Sniper Ghost Warrior 2 – Gold | 360 | 70% | €4.31 |
| Sniper Ghost Warrior 3 – Season Pass Edition | One | 67% | €13.20 |
| Sniper: Ghost Warrior | 360 | 85% | €2.24 |
| Sniper: Ghost Warrior – Map Pack | 360 | 70% | €2.84 |
| State of Anarchy: Master of Mayhem | One | 30% | €5.59 |
| Stick it To The Man | One | 80% | €1.59 |
| Styx: Master of Shadows + Styx: Shards of Darkness | One | 75% | €15.00 |
| The Golf Club 2 | One | 70% | €9.00€ |
| The LEGO Movie Videogame | One | 40% | €20.99 |
| The LEGO NINJAGO Movie Video Game | One | 40% | €35.99 |
| The Surge – Augmented Edition | One | 75% | €15.00 |
| Thimbleweed Park | One | 50% | €9.99 |
| Thronebreaker: The Witcher Tales | One | 25% | €19.49 |
| TT Isle of Man | One | 40% | €35.99 |
| Warhammer Bundle: Mordheim and Blood Bowl 2 | One | 75% | €12.50 |