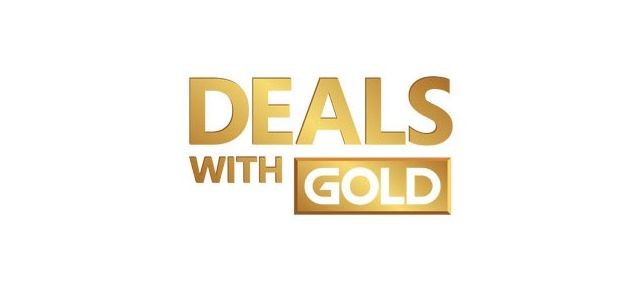 Avec quelques heures de retard sur l'horaire habituel, nous revoilà pour notre rendez-vous du mardi dédié aux promotions et autres bonnes affaires pour les Deals with Gold.
A lire également : Les quatre jeux gratuits de septembre pour les Games with Gold
Comme promis, nous vous proposons de retrouver ici-même l'ensemble des promotions disponibles sur le Store Xbox et nous avons le plaisir de vous fournir cette fois l'intégralité des prix remisés sur Xbox One et Xbox 360. A vous de voir maintenant si vous allez, ou non, faire chauffer les cartes bancaires.
| | | | |
| --- | --- | --- | --- |
| Titre | Support | Remise | Tarif après remise |
| Agatha Christie – The ABC Murders | One | 70% | 6.00€ |
| Alice: Madness Returns | 360 | 75% | 4.99€ |
| ARCADE GAME SERIES 3-in-1 Pack | One | 50% | 4.00€ |
| Battle Chasers: Nightwar | One | 60% | 12.00€ |
| Battlefield 3™ | 360 | 75% | 4.99€ |
| Battlefield Bad Company 2 | 360 | 75% | 4.99€ |
| Beholder Complete Edition | One | 70% | 4.50€ |
| BioShock | 360 | 60% | 7.99€ |
| BioShock 2 | 360 | 60% | 7.99€ |
| BioShock Infinite | 360 | 70% | 8.99€ |
| Bomber Crew | One | 25% | 11.24€ |
| Borderlands | 360 | 60% | 7.99€ |
| Borderlands 2 | 360 | 60% | 11.99€ |
| Burnout Revenge | 360 | 30% | 6.99€ |
| Call of Duty: Black Ops | 360 | 50% | 14.99€ |
| Call of Duty: World at War | 360 | 50% | 14.99€ |
| Castle of Illusion Starring Mickey Mouse | 360 | 50% | 7.19€ |
| Chroma Squad | One | 50% | 7.50€ |
| Civilization Revolution | 360 | 75% | 7.49€ |
| COD: Black Ops II | 360 | 67% | 16.49€ |
| Conan Exiles | One | 40% | 29.99€ |
| Crazy Taxi | 360 | 75% | 2.37€ |
| Dante's Inferno | 360 | 67% | 6.59€ |
| DARK SOULS II: Scholar of the First Sin | One | 75% | 10.00€ |
| DARK SOULS III | One | 75% | 17.50€ |
| DARK SOULS III – Deluxe Edition | One | 70% | 28.35€ |
| DARK SOULS: REMASTERED | One | 30% | 27.99€ |
| de Blob | One | 70% | 6.00€ |
| Dead Space | 360 | 75% | 4.99€ |
| Dead Space 2 | 360 | 75% | 4.99€ |
| Dead Space 3 | 360 | 75% | 4.99€ |
| Deadfall Adventures | 360 | 90% | 4.99€ |
| Deadfall Adventures Collectors Edition DLC | 360 | 90% | 0.47€ |
| Deep Rock Galactic (Game Preview) | One | 30% | 16.09€ |
| Destroy All Humans | 360 | 85% | 2.99€ |
| DEUS EX: HUMAN REVOLUTION | 360 | 90% | 1.49€ |
| Don't Starve Mega Pack | One | 50% | 13.50€ |
| Don't Starve: Giant Edition | One | 60% | 6.00€ |
| Don't Starve: Shipwrecked Console Edition | One | 40% | 2.99€ |
| Dovetail Games Euro Fishing | One | 50% | 9.25€ |
| Dragon Age: Origins | 360 | 75% | 4.99€ |
| Dragon Age 2 | 360 | 60% | 7.99€ |
| DRAGON BALL FIGHTERZ | One | 50% | 35.00€ |
| DRAGON BALL FIGHTERZ – FighterZ Edition | One | 50% | 50.00€ |
| DRAGON BALL FIGHTERZ – Ultimate Edition | One | 50% | 57.50€ |
| DRAGON BALL XENOVERSE | One | 75% | 12.50€ |
| Dragon Ball Xenoverse + Season Pass | One | 75% | 17.50€ |
| DRAGON BALL XENOVERSE 2 | One | 70% | 21.00€ |
| DRAGON BALL XENOVERSE 2 – Extra Pack Set | One | 30% | 11.89€ |
| DRAGON BALL XENOVERSE 2 DELUXE EDITION | One | 67% | 31.18€ |
| Dungeon Siege III | 360 | 75% | 3.74€ |
| EA SPORTS UFC 3 | One | 67% | 23.10€ |
| EA SPORTS UFC 3 Deluxe Edition | One | 70% | 27.00€ |
| EARTHLOCK | One | 40% | 17.99€ |
| Faery: Legends of Avalon | 360 | 75% | 1.79€ |
| Farming Simulator 17 | One | 75% | 10.00€ |
| Farming Simulator 17 – Big Bud Pack | One | 33% | 10.04€ |
| Farming Simulator 17 – Platinum Edition | One | 50% | 25.00€ |
| Farming Simulator 17 – Platinum Expansion | One | 33% | 13.39€ |
| Farming Simulator 17 – Premium Edition | One | 75% | 18.75€ |
| Farming Simulator 17 – ROPA PACK | One | 33% | 5.35€ |
| Farming Simulator 17 – Season Pass | One | 33% | 23.44€ |
| FIGHT NIGHT CHAMPION | 360 | 50% | 14.99€ |
| FORCED | One | 70% | 4.50€ |
| Frontlines : Fuel of War | 360 | 85% | 2.24€ |
| Frontlines : 4 Map Pack | 360 | 85% | 1.42€ |
| Full Spectrum Warrior | Xbox | 40% | 8.99€ |
| Gaara's Tale Extra Scenario Pack | One | 50% | 5.00€ |
| Get Even | One | 75% | 7.50€ |
| Globetrotter Bundle | One | 20% | 35.99€ |
| GRID 2 | 360 | 75% | 6.24€ |
| GRID Autosport | 360 | 75% | 6.24€ |
| Guilt Battle Arena | One | 50% | 4.99€ |
| Hammerwatch | One | 30% | 6.99€ |
| Impact Winter | One | 75% | 5.00€ |
| Jet Set Radio | 360 | 50% | 4.74€ |
| JUJU | 360 | 80% | 2.99€ |
| Just Cause 2 | 360 | 90% | 1.49€ |
| Kane & Lynch 2 | 360 | 75% | 3.74€ |
| Kerbal Space Program Enhanced Edition | One | 50% | 20.00€ |
| Kholat | One | 70% | 6.00€ |
| Kingdom: New Lands | One | 50% | 7.50€ |
| Knee Deep | One | 70% | 4.50€ |
| Kuhn Equipment Pack | One | 33% | 10.04€ |
| Lara Croft: GoL | 360 | 75% | 3.59€ |
| Lifeless Planet: Premier Edition | One | 60% | 8.00€ |
| Little Nightmares | One | 60% | 8.00€ |
| Little Nightmares Complete Edition | One | 60% | 12.00€ |
| Mafia II | 360 | 75% | 7.49€ |
| Manual Samuel | One | 70% | 3.00€ |
| Mass Effect 2 | 360 | 70% | 5.99€ |
| Mass Effect™ 3 | 360 | 70% | 5.99€ |
| Medal of Honor Airborne | 360 | 67% | 6.59€ |
| Middle-earth: Shadow of War Definitive Edition | One | 10% | 44.99€ |
| Mirror's Edge™ | 360 | 67% | 6.59€ |
| Modern Warfare® | 360 | 25% | 22.49€ |
| Modern Warfare® 3 | 360 | 50% | 14.99€ |
| MX Unleashed | Xbox | 80% | 2.99€ |
| MX vs ATV Reflex | 360 | 85% | 4.49€ |
| NARUTO SHIPPUDEN: Ultimate Ninja STORM 4 | One | 50% | 15.00€ |
| NARUTO SHIPPUDEN: Ultimate Ninja STORM 4 ROAD TO BORUTO Pack | One | 50% | 10.00€ |
| NARUTO SHIPPUDEN: Ultimate Ninja STORM Legacy | One | 50% | 35.00€ |
| NARUTO SHIPPUDEN: Ultimate Ninja STORM Trilogy | One | 50% | 20.00€ |
| NARUTO STORM 4 – Season Pass | One | 50% | 10.00€ |
| NBA JAM: On Fire Edition | 360 | 80% | 1.99€ |
| Necropolis |   | 75% | 7.50€ |
| Neon Chrome | One | 70% | 4.50€ |
| Neon Chrome – Arena | One | 70% | 1.50€ |
| ONE PIECE BURNING BLOOD – Gold Edition | One | 75% | 23.62€ |
| One Piece: Burning Blood | One | 75% | 17.50€ |
| Outlast: Bundle of Terror | One | 75% | 6.25€ |
| Owlboy | One | 40% | 14.99€ |
| PAC-MAN 256 |   | 50% | 2.50€ |
| PAC-MAN CHAMPIONSHIP EDITION 2 |   | 60% | 5.20€ |
| PLANET ALPHA | One | 15% | 16.99€ |
| Prey | 360 | 80% | 3.99€ |
| Project CARS – Game of the Year Edition | One | 75% | 12.50€ |
| Project CARS 2 | One | 60% | 28.00€ |
| Project CARS 2 Deluxe Edition | One | 60% | 40.00€ |
| Project CARS Digital Edition | One | 75% | 7.50€ |
| Quantum Conundrum | 360 | 75% | 2.49€ |
| Red Faction: Armageddon | 360 | 85% | 4.49€ |
| Red Faction: Armageddon – Path to War | 360 | 85% | 1.00€ |
| Red Faction: Battlegrounds | 360 | 90% | 0.94€ |
| Remothered: Tormented Fathers | One | 35% | 19.49€ |
| Riddled Corpses EX | One | 25% | 8.99€ |
| RIDE | One | 75% | 5.00€ |
| Ruin Pack | 360 | 85% | 0.71€ |
| Saban's Mighty Morphin Power Rangers: Mega Battle | One | 60% | 6.00€ |
| SEGA Bass Fishing | 360 | 75% | 1.19€ |
| Sega Vintage Collection: Streets of Rage | 360 | 75% | 2.37€ |
| Shadows of the Damned | 360 | 75% | 4.99€ |
| Sheltered | One | 75% | 3.25€ |
| Shikamaru's Tale Extra Scenario Pack | One | 50% | 5.00€ |
| Skate 3 | 360 | 75% | 4.99€ |
| SOMA | One | 50% | 15.00€ |
| Sonic & Knuckles | 360 | 33% | 1.90€ |
| Sonic Adventure | 360 | 50% | 2.39€ |
| Sonic Adventure™ 2 | 360 | 50% | 4.74€ |
| Sonic CD | 360 | 50% | 2.39€ |
| Sonic Generations | 360 | 50% | 9.99€ |
| Sonic the Fighters | 360 | 50% | 2.39€ |
| Sonic The Hedgehog | 360 | 50% | 2.39€ |
| Sonic The Hedgehog 2 | 360 | 50% | 2.39€ |
| Sonic The Hedgehog 3 | 360 | 50% | 2.39€ |
| Spec Ops: The Line | 360 | 80% | 5.99€ |
| SSX | 360 | 67% | 9.89€ |
| Stuntman Director's Cut Pack | 360 | 80% | 1.89€ |
| Stuntman: Ignition | 360 | 80% | 3.99€ |
| Supreme Commander 2 | 360 | 75% | 3.74€ |
| SwapQuest | One | 75% | 2.50€ |
| SWORD ART ONLINE: FATAL BULLET | One | 40% | 41.99€ |
| SWORD ART ONLINE: FATAL BULLET Deluxe Edition | One | 30% | 62.99€ |
| Symmetry | One | 50% | 9.00€ |
| Tekken 7 | One | 60% | 28.00€ |
| TEKKEN 7 – Deluxe Edition | One | 60% | 38.00€ |
| TEKKEN 7 – Season Pass | One | 60% | 10.00€ |
| The Assembly | One | 60% | 7.40€ |
| The Coma: Recut | One | 67% | 4.95€ |
| The Darkness II | One | 80% | 5.99€ |
| The Flame in the Flood | One | 60% | 8.00€ |
| The Path of Motus | One | 25% | 11.24€ |
| The Sims 4 | One | 60% | 20.00€ |
| The Sims 4 Cats & Dogs | One | 20% | 31.99€ |
| The Sims 4 City Living | One | 50% | 20.00€ |
| The Sims 4 Cool Kitchen Stuff | One | 40% | 5.99€ |
| The Sims 4 Deluxe Party Edition | One | 60% | 24.00€ |
| The Sims 4 Dine Out | One | 40% | 11.99€ |
| The Sims 4 Get to Work | One | 50% | 20.00€ |
| The Sims 4 Luxury Party Stuff | One | 40% | 5.99€ |
| The Sims 4 Perfect Patio Stuff | One | 40% | 5.99€ |
| The Sims 4 Romantic Garden Stuff | One | 40% | 5.99€ |
| The Sims 4 Vampires | One | 40% | 11.99€ |
| The Sims 4 Vintage Glamour Stuff | One | 40% | 5.99€ |
| The Solus Project | One | 67% | 6.60€ |
| The Sound Four Extra Playable Characters Pack | One | 50% | 4.00€ |
| The Station | One | 40% | 8.99€ |
| The Surge | One | 75% | 10.00€ |
| TimeShift | 360 | 50% | 14.99€ |
| Tomb Raider Underworld | 360 | 90% | 1.99€ |
| Toro | One | 50% | 1.50€ |
| Tour de France 2018 | One | 50% | 25.00€ |
| Track Pack 1 | 360 | 80% | 0.57€ |
| Track Pack 2 | 360 | 80% | 0.57€ |
| Tumblestone | One | 60% | 8.00€ |
| Uncanny Valley | One | 75% | 3.25€ |
| Warhammer: End Times – Vermintide | One | 80% | 8.00€ |
| Warhammer: Vermintide 2 – Premium Edition | One | 25% | 33.74€ |
| Winterbottom | 360 | 80% | 1.89€ |
| Xenon Valkyrie+ | One | 33% | 6.69€ |