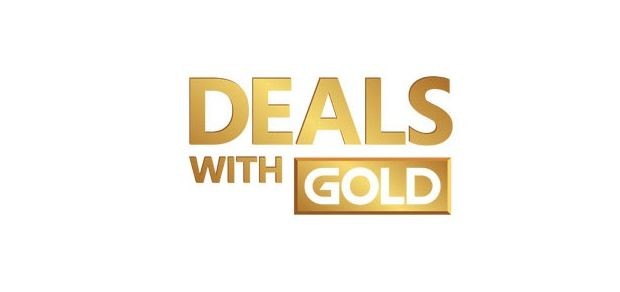 C'est mardi et comme tous les mardis, on se penche avec précision sur les Deals with Gold et autres promotions accessibles à tous sur Xbox One et Xbox 360.
Et ce que l'on constate avec plaisir cette semaine encore c'est que la liste est longue et composée de titres à la fois connus pour leurs qualités mais également leur éclectisme. Les gros calibres sont là, avec Star Wars Battlefront II, Wolfenstein sous toutes ses formes, DOOM, For Honor, Dead Rising 4, Forza Motorsport 7 ou encore Battlefield V.
On retrouve également une belle sélection de titres moins axés «grand public» mais néanmoins très recommandables tels que l'excellent Guacamelee! 2 (testé il y a peu), Silence : The Whispered World 2, GRIP, Superhot, Tacoma… Bref, il y a en a pour tous les goûts !
| | | | |
| --- | --- | --- | --- |
| Titre | Support | Remise | Tarif après remise |
| All-Star Fruit Racing | One | 30% | €17.49 |
| Aqua Moto Racing Utopia | One | 25% | €14.99 |
| Baseball Riot | One | 50% | €2.49 |
| Battlefield 3 | 360 | 75% | €4.99 |
| Battlefield 4 | One | 75% | €5.00 |
| Battlefield 4 Premium Edition | One | 85% | €10.50 |
| Battlefield Bad Company 2 | 360 | 75% | €4.99 |
| Battlefield Hardline Ultimate Edition | One | 85% | €13.50 |
| Battlefield V | One | 50% | €35.00 |
| Battlefield V Deluxe Edition | One | 50% | €45.00 |
| Battlefield World War Bundle | One | 50% | €50.00 |
| Bush Hockey League | One | 50% | €5.99 |
| Chess Ultra | One | 50% | €6.24 |
| City of Brass | One | 30% | €13.99 |
| Coffin Dodgers | One | 60% | €4.79 |
| Danger Zone | One | 60% | €5.99 |
| Dangerous Golf | One | 70% | €5.99 |
| Dead Rising 4 | One | 50% | €14.99 |
| Dead Rising 4 Deluxe Edition | One | 50% | €19.99 |
| Desert Child | One | 10% | €10.79 |
| Disco Dodgeball – REMIX | One | 50% | €7.50 |
| Divinity: Original Sin – Enhanced Edition | One | 75% | €10.00 |
| Divinity: Original Sin 2 – Definitive Edition | One | 40% | €35.99 |
| DOOM + Wolfenstein II Bundle | One | 60% | €32.00 |
| EA SPORTS UFC 3 | One | 60% | €28.00 |
| EA SPORTS UFC 3 Deluxe Edition | One | 67% | €29.70 |
| For Honor – Marching Fire Expansion | One | 50% | €15.00 |
| FOR HONOR YEAR 1 : HEROES BUNDLE | One | 50% | €15.00 |
| Forza Horizon 3 Car Pass | One | 60% | €11.99 |
| Forza Horizon 4 and Forza Horizon 3 Bundle | One | 40% | €65.98 |
| Forza Motorsport 6 Complete Add-On Collection | One | 75% | €35.00 |
| Forza Motorsport 7 Deluxe Edition | One | 50% | €37.49 |
| Forza Motorsport 7 Standard Edition | One | 40% | €29.99 |
| Forza Motorsport 7 Ultimate Edition | One | 50% | €44.99 |
| Gas Guzzlers Extreme | One | 75% | €6.24 |
| GRIP | One | 20% | €31.99 |
| GRIP Digital Deluxe | One | 30% | €33.59 |
| Guacamelee! 2 | One | 20% | €15.99 |
| Halo Wars: Definitive Edition | One | 50% | €9.99 |
| Halo: Spartan Assault | One | 50% | €1.49 |
| Halo: Spartan Strike | One | 50% | €1.49 |
| Handball 16 | One | 80% | €7.99 |
| Horse Racing 2016 | One | 85% | €1.49 |
| INVERSUS Deluxe | One | 70% | €4.49 |
| Jotun: Valhalla Edition | One | 67% | €4.94 |
| Jump Gunners | One | 33% | €8.70 |
| Motorcycle Club | 360 | 50% | €4.99 |
| My Memory of Us | One | 40% | €11.99 |
| NASCAR Expansion | One | 75% | €5.00 |
| NeuroVoider | One | 50% | €7.00 |
| OlliOlli | One | 60% | €3.99 |
| OlliOlli2: XL Edition | One | 75% | €3.25 |
| One Hundred Ways | One | 50% | €4.99 |
| oOo: Ascension | One | 40% | €5.39 |
| Party Jousting | One | 25% | €3.74 |
| Plants vs. Zombies Garden Warfare 2 | One | 75% | €5.00 |
| Plants vs. Zombies Garden Warfare 2: Deluxe Edition | One | 80% | €6.00 |
| Pumped BMX + | One | 60% | €3.99 |
| Pure Hold'em | One | 60% | €7.99 |
| Pure Pool | One | 60% | €3.99 |
| RAZED | One | 50% | €5.99 |
| Recotech Bundle | One | 50% | €3.99 |
| Rocket League | One | 40% | €11.99 |
| Rocket League – DC Super Heroes DLC Pack | One | 40% | €2.39 |
| Rocket League – Fast & Furious '99 Nissan Skyline GT-R R34 | One | 41% | €1.19 |
| Rocket League – Hot Wheels Triple Threat DLC Pack | One | 40% | €3.59 |
| Rocket League – Jurassic World Car Pack | One | 41% | €1.19 |
| RUGBY 18 | One | 70% | €18.00 |
| Shred It! | One | 50% | €4.99 |
| Silence – The Whispered World 2 | One | 33% | €20.09 |
| Speedboat Challenge | One | 30% | €9.79 |
| STAR WARS Battlefront II | One | 75% | €6.25 |
| STAR WARS Battlefront Ultimate Edition | One | 75% | €5.00 |
| Starpoint Gemini 2 | One | 60% | €13.99 |
| Starpoint Gemini 2 Gold Pack | One | 60% | €16.79 |
| Starpoint Gemini 2: Secrets of Aethera | One | 60% | €1.99 |
| Starpoint Gemini 2: Titans | One | 60% | €1.99 |
| Starpoint Gemini Warlords | One | 40% | €20.99 |
| Starpoint Gemini Warlords: Cycle of Warfare | One | 50% | €4.99 |
| Starpoint Gemini Warlords: Deadly Dozen | One | 50% | €2.49 |
| Starpoint Gemini Warlords: Rise of Numibia | One | 50% | €3.99 |
| Starpoint Gemini Warlords: Titans Return | One | 50% | €3.49 |
| Stikbold! A Dodgeball Adventure | One | 50% | €4.99 |
| Styx: Master of Shadows | One | 75% | €7.50 |
| Sundered: Eldritch Edition | One | 30% | €13.99 |
| Super Hyperactive Ninja | One | 85% | €1.34 |
| Super Mega Baseball 2 | One | 50% | €14.99 |
| Super Mega Baseball: Extra Innings | One | 80% | €3.99 |
| Super Night Riders | One | 50% | €3.99 |
| Super Volley Blast | One | 30% | €6.99 |
| SUPERHOT  | One | 50% | €11.49 |
| Surf World Series | One | 40% | €8.99 |
| Tacoma | One | 67% | €6.59 |
| Tennis in the Face | One | 50% | €2.49 |
| The Council – Complete Season | One | 50% | €15.00 |
| The Council – Episode 1: The Mad Ones | One | 75% | €1.75 |
| The Council – Season Pass | One | 33% | €16.74 |
| The Station | One | 50% | €7.49 |
| Titanfall 2: Ultimate Edition | One | 85% | €4.50 |
| Wolfenstein II: The Freedom Chronicles Season Pass | One | 40% | €14.99 |
| Wolfenstein II: The New Colossus | One | 67% | €23.10 |
| Wolfenstein II: The New Colossus Digital Deluxe Edition | One | 67% | €29.70 |
| Wolfenstein: The New Order | One | 50% | €10.00 |
| Wolfenstein: The Old Blood | One | 50% | €10.00 |
| Wolfenstein: The Two-Pack | One | 50% | €15.00 |
| WRC 5 | 360 | 80% | €7.99 |