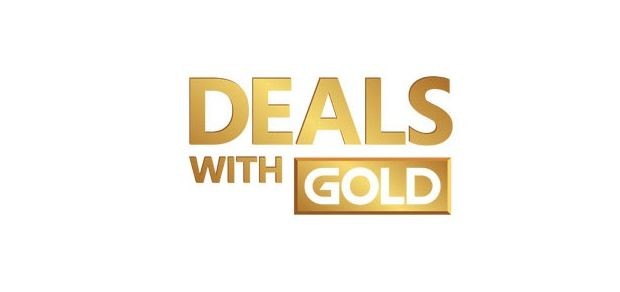 Nous voilà arrivés au moment que vous attendez tous : celui des Deals with Gold et autres soldes d'éditeurs sur Xbox One et Xbox 360.
Cette semaine, aux côtés d'un Grand Theft Auto V qui fait office de résident permanent, on retrouve de très nombreux jeux Batman. Sous sa véritable forme ou en LEGO, le Chevalier Noir se fait une petite cure d'amincissement tarifaire. On note également de nombreuses offres pour Titanfall 2, un -20% pour Trials Rising tandis que SoulCalibur VI plonge à 23,10€ ! Le bon moment pour céder à l'appel de la baston ?
Si vous cherchez quelque chose de différent, d'un peu plus posé, plusieurs FMV sont en promo : du très bon Late Shift à The Shapeshifting Detective en passant par The Bunker, il y a de quoi faire avec ce genre ô combien singulier mais dans le cas de ces jeux, très plaisant.
Voici l'ensemble des offres disponibles du 26 mars au 2 avril à midi. Les liens présents sur certains titres vous mèneront vers nos tests.
| | | | |
| --- | --- | --- | --- |
| Titre | Support | Remise | Tarif après remise |
| 8-Bit Hordes | One | 25% | €22.49 |
| Alien Rage | 360 | 80% | €2.87 |
| All-Star Fruit Racing | One | 30% | €17.49 |
| Aqua Moto Racing Utopia | One | 30% | €13.99 |
| Batman: Arkham Asylum | 360 | 70% | €5.99 |
| Batman: Arkham City | 360 | 70% | €5.99 |
| Batman: Arkham Collection | One | 60% | €24.00 |
| Batman: Arkham Knight | One | 50% | €17.50 |
| Batman: Arkham Knight Premium Edition | One | 50% | €25.00 |
| Batman: Arkham Knight Season Pass | One | 50% | €10.00 |
| Batman: Return to Arkham | One | 50% | €25.00 |
| Boom Ball 3 pour Kinect | One | 50% | €4.99 |
| Bridge Constructor Portal | One | 40% | €8.99 |
| Candle: The Power of the Flame | One | 67% | €7.75 |
| Carnival Games | One | 40% | €23.99 |
| Conarium | One | 25% | €22.49 |
| Costume Quest | 360 | 85% | €2.15 |
| Crypt of the Serpent King | One | 26% | €1.49 |
| DayD: Through Time | One | 50% | €4.99 |
| Dogfight 1942 | 360 | 75% | €2.37 |
| Farming Simulator 19 | One | 25% | €37.49 |
| Farming Simulator 19 – Premium Edition | One | 25% | €67.49 |
| Farming Simulator 19 – Season Pass | One | 15% | €42.49 |
| Fire over Africa | 360 | 60% | €1.14 |
| FlatOut 4 : Total Insanity | One | 80% | €12.00 |
| Grand Theft Auto V | One | 50% | €15.00 |
| Grand Theft Auto V & Great White Shark Cash Card | One | 10% | €40.49 |
| Grand Theft Auto V & Great White Shark Cash Card | One | 70% | €13.50 |
| Grand Theft Auto V : Criminal Enterprise Starter Pack and Great White Shark Card Bundle | One | 10% | €40.49 |
| Grand Theft Auto V : Criminal Enterprise Starter Pack and Great White Shark Card Bundle | One | 35% | €29.24 |
| Grand Theft Auto V : Criminal Enterprise Starter Pack and Megalodon Shark Card Bundle | One | 15% | €89.24 |
| Grand Theft Auto V : Criminal Enterprise Starter Pack and Megalodon Shark Card Bundle | One | 35% | €68.24 |
| Grand Theft Auto V : Criminal Enterprise Starter Pack and Whale Shark Card Bundle | One | 10% | €61.19 |
| Grand Theft Auto V : Criminal Enterprise Starter Pack and Whale Shark Card Bundle | One | 35% | €44.19 |
| Grand Theft Auto V: Premium Online Edition | One | 10% | €53.99 |
| Grand Theft Auto V: Premium Online Edition | One | 75% | €15.00 |
| Grand Theft Auto V: Premium Online Edition & Great White Shark Card Bundle | One | 5% | €66.49 |
| Grand Theft Auto V: Premium Online Edition & Great White Shark Card Bundle | One | 75% | €17.50 |
| Grand Theft Auto V: Premium Online Edition & Megalodon Shark Card Bundle | One | 25% | €97.49 |
| Grand Theft Auto V: Premium Online Edition & Megalodon Shark Card Bundle | One | 75% | €32.50 |
| Grand Theft Auto V: Premium Online Edition & Whale Shark Card Bundle | One | 10% | €83.69 |
| Grand Theft Auto V: Premium Online Edition & Whale Shark Card Bundle | One | 75% | €23.25 |
| GTA Online: Criminal Enterprise Starter Pack | One | 35% | €19.49 |
| HoPiKo | One | 50% | €3.49 |
| Hunter: The Reckoning | One | 30% | €10.49 |
| Injustice 2 | One | 10% | €35.99 |
| Injustice 2 – Legendary Edition | One | 10% | €53.99 |
| Kill The Bad Guy | One | 50% | €3.49 |
| Late Shift | One | 40% | €7.49 |
| LEGO Batman | 360 | 70% | €5.99 |
| LEGO Batman 3 Season Pass | One | 40% | €8.99 |
| LEGO Batman 3: Au-delà de Gotham | One | 50% | €25.00 |
| LEGO Batman 3: Au-delà de Gotham Deluxe Edition | One | 50% | €32.50 |
| LEGO Batman : Au-delà de Gotham (X360) | 360 | 70% | €17.99 |
| LEGO DC Super-Vilains | One | 40% | €35.99 |
| LEGO DC Super-Vilains Deluxe Edition | One | 40% | €44.99 |
| LEGO DC Super-Vilains Season Pass | One | 40% | €8.99 |
| LEGO Batman 2 | 360 | 40% | €11.99 |
| Monkey Island 2: SE | 360 | 60% | €3.79 |
| MudRunner | One | 75% | €8.75 |
| MudRunner – American Wilds Edition | One | 50% | €20.00 |
| MudRunner – American Wilds DLC | One | 33% | €6.69 |
| My Little Riding Champion | One | 33% | €23.44 |
| Mystik Belle | One | 25% | €11.24 |
| Ninjin: Clash of Carrots | One | 40% | €8.99 |
| Oblivion | One | 50% | €7.49 |
| Overdriven Reloaded: Special Edition | One | 75% | €1.99 |
| Paladins Champions Pack | One | 50% | €15.00 |
| Paladins Digital Deluxe Edition 2019 | One | 25% | €44.99 |
| Ratatouille | 360 | 60% | €3.99 |
| Road Rage | One | 75% | €7.50 |
| Rock 'N Racing Bundle | One | 67% | €3.95 |
| Russia under Siege | 360 | 60% | €1.14 |
| Shantae: Half-Genie Hero Ultimate Edition | One | 25% | €22.49 |
| Siberian Strike | 360 | 70% | €2.84 |
| Sniper Ghost Warrior – Second Strike | 360 | 60% | €2.67 |
| Sniper Ghost Warrior 2 | One | 85% | €5.99 |
| Sniper Ghost Warrior 2 – Gold | 360 | 70% | €4.31 |
| Sniper: Ghost Warrior | 360 | 85% | €2.24 |
| Sniper: Ghost Warrior – Map Pack | 360 | 70% | €2.84 |
| SOULCALIBUR VI | One | 67% | €23.10 |
| SOULCALIBUR VI Deluxe Edition | One | 40% | €59.99 |
| Tango Fiesta | One | 85% | €1.49 |
| Tennis World Tour | One | 33% | €40.19 |
| Tennis World Tour Legends Edition | One | 33% | €50.24 |
| The Bunker | One | 50% | €9.99 |
| The Mummy Demastered | One | 25% | €14.99 |
| The Outfit | 360 | 85% | €2.24 |
| The Shapeshifting Detective | One | 40% | €7.19 |
| Titanfall 2 | One | 75% | €5.00 |
| Titanfall 2 Deluxe Edition Content | One | 60% | €4.00 |
| Titanfall 2: Angel City's Most Wanted Bundle | One | 60% | €10.00 |
| Titanfall 2: Colony Reborn Bundle | One | 60% | €10.00 |
| Titanfall 2: Ion Prime | One | 60% | €2.00 |
| Titanfall 2: Jump Start Pack | One | 60% | €2.80 |
| Titanfall 2: Legion Prime | One | 60% | €2.00 |
| Titanfall 2: Monarch's Reign Bundle | One | 60% | €10.00 |
| Titanfall 2: Northstar Prime | One | 60% | €2.00 |
| Titanfall 2: Operation Endeavor Warpaint Bundle | One | 60% | €8.00 |
| Titanfall 2: Prime Titan Bundle | One | 60% | €8.00 |
| Titanfall 2: Ronin Prime | One | 60% | €2.00 |
| Titanfall 2: Scorch Prime | One | 60% | €2.00 |
| Titanfall 2: Tone Prime | One | 60% | €2.00 |
| Titanfall 2: Ultimate Edition | One | 75% | €7.50 |
| Transcripted | One | 60% | €3.19 |
| Trials Rising | One | 20% | €19.99 |
| Trials Rising – Digital Gold Edition | One | 25% | €29.99 |
| Troll & I | One | 75% | €12.50 |
| Tyler: Model 005 | One | 50% | €4.00 |